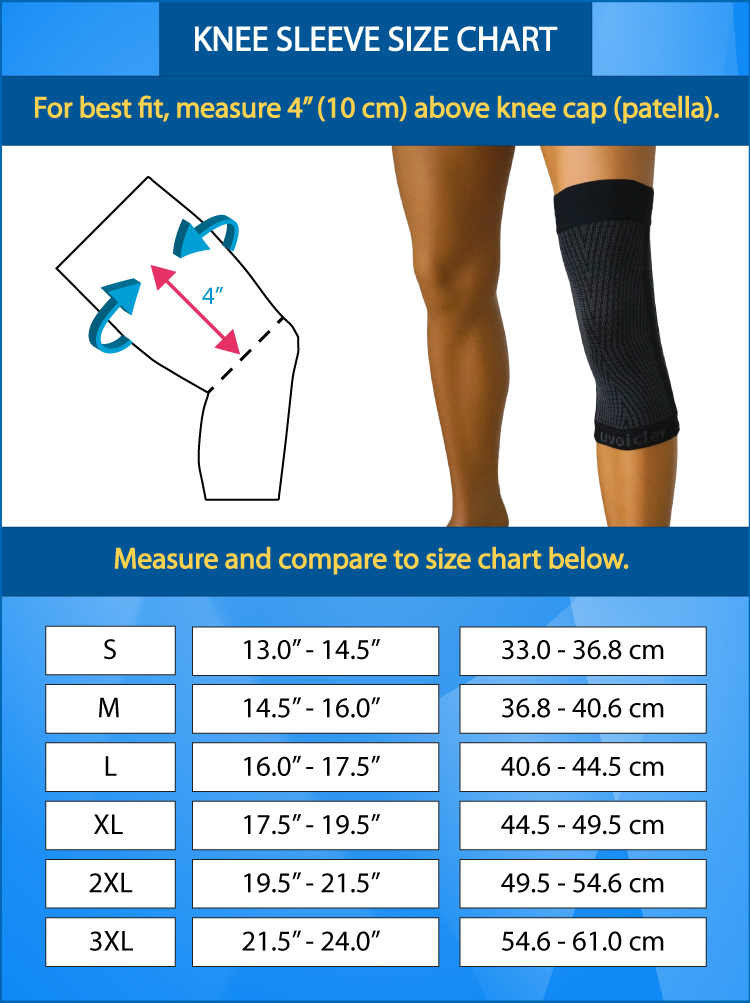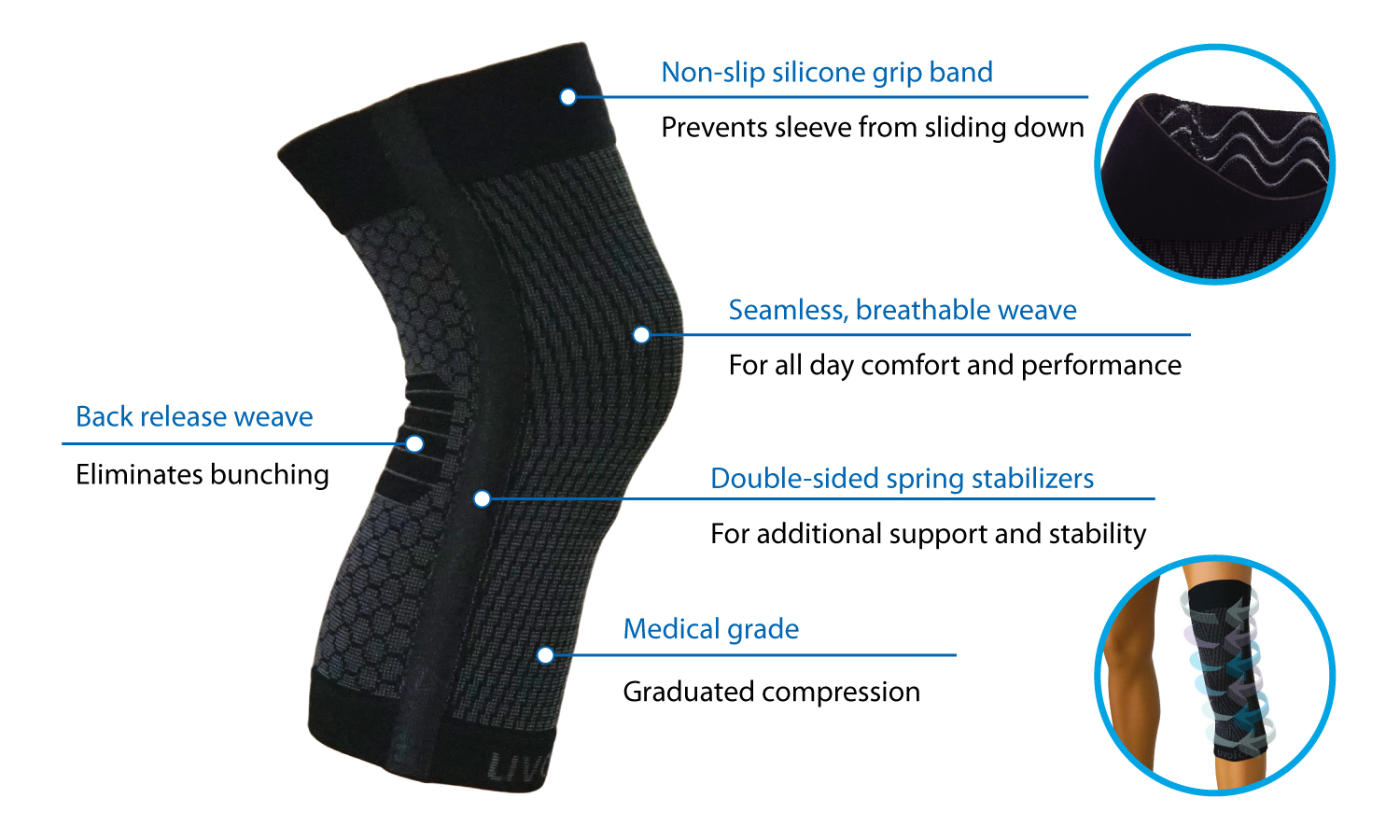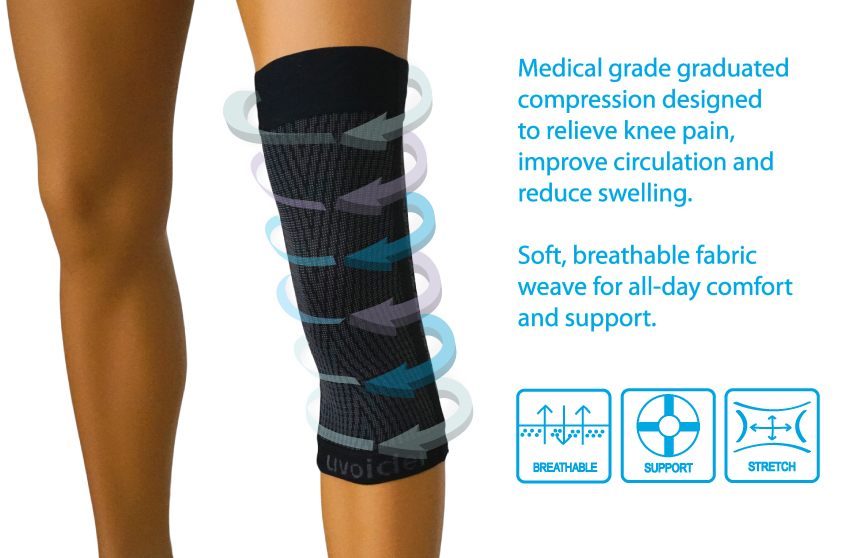 Relieve knee pain caused by injuries and chronic conditions
The Uvoider Compression Knee Brace Support Sleeve is a medical-grade knee sleeve that provides pain relief and inflammation reduction for those suffering from acute or chronic knee pain due to sports injuries or medical conditions. Non-slip silicone strips on the upper band and side spring stabilizers ensure the sleeve holds up and does not slip easily. Made of soft knit, breathable, moisture-wicking fabric, the sleeve is comfortable and can be worn all day. Sleeves are 20-30 mmHg compression.
Features
Pain Relief: Relieve knee pain caused by arthritis, runner's knee, patellar tendinitis, sprains, sports injury, and chronic joint conditions.
Excellent Protection: Reduce risk of knee injury or re-injury by providing additional support for weak knees.
Anti-Slip Design: Side stabilizers and silicone strips on upper band to hold knee sleeve in place and not slide down easily during use.
Premium Quality: Made of soft knit, breathable, moisture-wicking fabric for all day comfort.
All-Day Comfort: Wear comfortably under apparel for continuous support all day.
Form fitting fabric for increased mobility.
Ease of Use: Easy to put on and take off.
Reduces swelling and improve circulation.
Peak Performance: Reduce muscle soreness and pain, and enable muscles to recover more quickly after sports or activities.
Uses
Sports and Activities

Running, cycling, baseball, basketball, soccer, golf, tennis, volleyball, crossfit, weightlifting, hiking, walking, exercise, and more.

Work Related

Construction, landscaping, doctors, nurses, first responders, hospitality, retail, salespersons, outdoor work, work that requires long hours on your feet, and more.

Illness and Injury

Arthritis
Runner's Knee
Patellar tendinitis
Joint pain
Sprains
Ligament injuries
Product Details
One sleeve
Fabric: 75% nylon, 25% spandex
20-30 mmHg
Hand wash; Hang dry.
Imported
Size Chart for Uvoider Compression Knee Sleeve
For best fit, measure 4" (10 cm) above knee cap (patella) and compare to size chart below.
| | | |
| --- | --- | --- |
| Size | Measurement (inches) | Measurement (cm) |
| S | 13.0 - 14.5 in | 33.0 - 36.8 cm |
| M | 14.5 - 16.0 in | 36.8 - 40.6 cm |
| L | 16.0 - 17.5 in | 40.6 - 44.5 cm |
| XL | 17.5 - 19.5 in | 44.5 - 49.5 cm |
| 2XL | 19.5 - 21.5 in | 49.5 - 54.6 cm |
| 3XL | 21.5 - 24.0 in | 54.6 - 61.0 cm |
When selecting a size for your knee sleeves, the measurement of your thigh 4" (10 cm) above the knee cap (patella) should be used as the main determining factor.
Measure and select from this size chart a size that fits your measurements.
If you require further assistance, please contact a Customer Service Representative.
Uvoider Compression Knee Sleeves – Sizes and Product Information