There are so many ways to wear your Uvoider headwear. It is an ingenious piece of accessory that everyone should have at least one.
Below are illustrations of some of the ways this multifunctional headwear can be worn.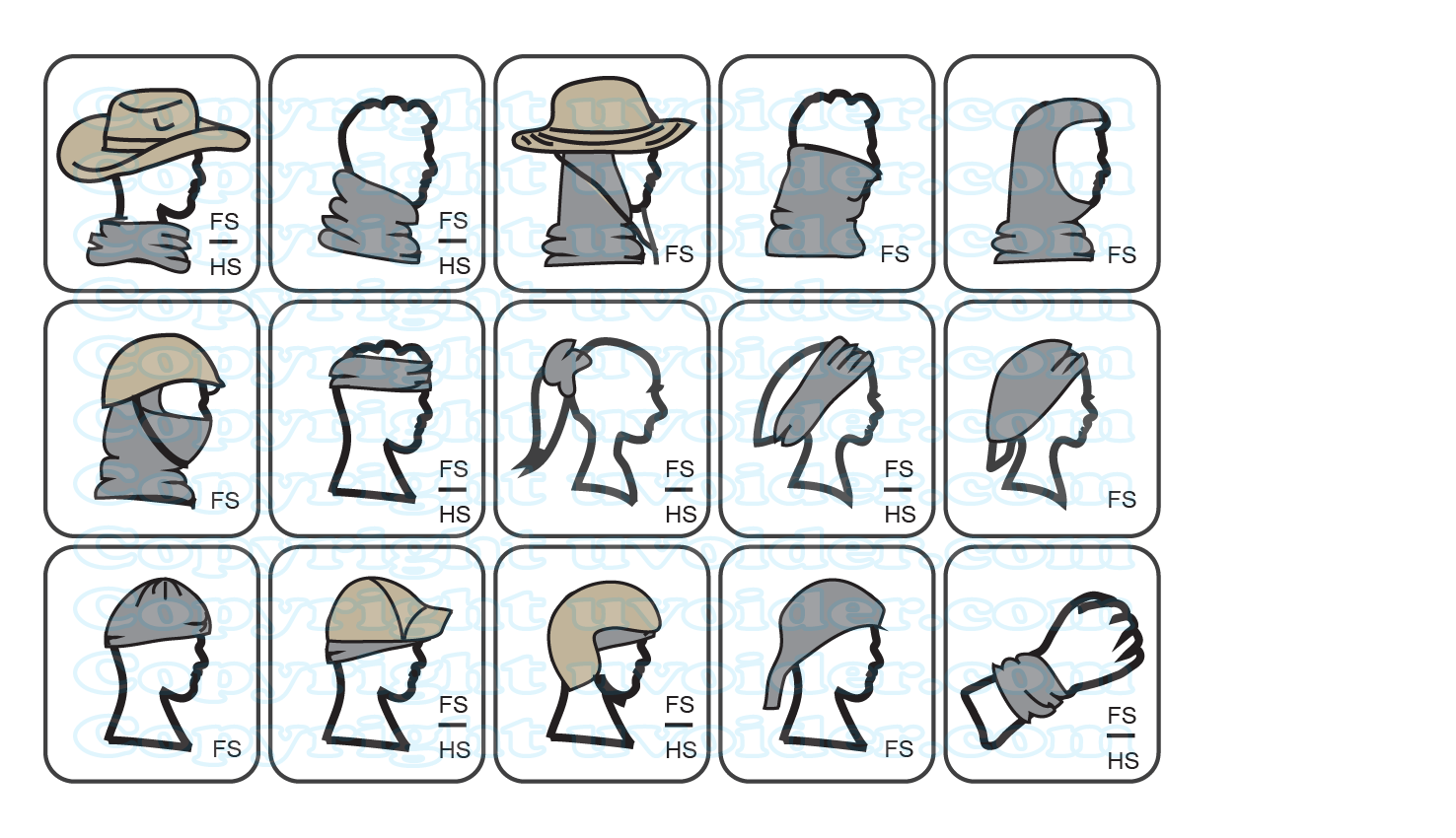 Legend: FS - Full Size Headwear; HS - Half Size Headwear
How to wear:
Scarf/Neckerchief - stylish and can be worn all year round.
Neck gaiter/Neck buff - pulled higher up the neck to cover from sun, wind, and/or cold.
Hood - covers the whole head from sun, wind and/or cold. Excellent for wearing under helmets.
Face mask - ideal for keeping out the sun, wind, dust, and/or cold.
Balaclava - for total coverage and protection from sun, wind, and/or cold.
Headband - to keep hair and perspiration from getting into eyes during exercise and activities. Sport a different color/design to match your outfit.
Scrunchie/Ponytail guard - keeps your hair back and away from your face during sports and other activities.
Hairband - pull on for function and style.
Head scarf/Snood - keep your hair in place, for a different look or for bad hair days!
Beanie - to keep head protected from sun, wind, and/or cold; Great for wearing under a baseball cap or bike helmet.
Bandana Cap - covers head and back of neck.
Wrist band - for sports and other activities.
Headwear for Dogs
Finally, the Uvoider Half Headwear makes a stylish and multifunctional accessory for dogs. It can be worn as a collar, a bandana, or a hood - to protect your best friend from the sun or the cold, and/or for increased visibility, style, and convenience.
Uvoider UV Headwear – Popular Colors