Why do golfers wear golf arm sleeves? Most articles that you read on why golfers wear arm sleeves talk about the functional benefits of the arm sleeves which fall into three categories; performance, protection, and recovery. And then of course there's style. But the real reason a golfer wears arm sleeves is not on account of the many benefits they provide or how stylish they look, rather it is because they meet a "specific" need. Consider the following use cases for wearing golf arm sleeves.
Golf Arm Sleeves - Staying connected for longer and straighter drives
Take the case of Steve, a 9 handicap golfer who is really a scratch handicap golfer for 14 holes and something else for the other 4 holes. Not always, but just enough to mess up a good round, Steve's hands get a little too active at the top of his swing causing just enough mischief to produce an errant drive; sometimes a smothered duckhook, sometimes an open-face miss to the right, always a big number. Steve finds that his golf arm sleeves promotes a feeling of connectedness enabling him to swing with quiet, passive hands as if the clubhead is an extension of the body. The end result is longer, straighter drives and a scoring opportunity. This is why Steve wears golf arm sleeves.
Golf Arm Sleeves - Keeping the harmful rays of the sun off your arms
Next is the case of Jim, a scratch golfer with an old school, left heel off the ground, Byron Nelson like swing. Jim's tempo and timing are mesmerizing to watch and he has no desire to change his syrupy two-plane swing to one of the modern swings advocated by today's swing gurus. Jim's only golf problem is his extremely fair and sensitive skin which has already undergone multiple treatments for skin cancer. Jim wears golf arm sleeves to keep the harmful rays of the sun off his skin as even the most protective of sunblocks only last for two hours. Besides, what golfer takes the time or even wants to reapply sunblock after the first nine. Sun protection is why Jim wears arm sleeves.
Golf Arm Sleeves - Swinging tension-free for effortless power
And then there is Mike, an 18 handicapper seeking to change his swing from a slide and pop to a turn and release. Though Mike is working to fix a handful of swing issues, his biggest problem is an old habit of tensing-up just before the shot in order to really whack the ball far. The more Mike tenses up, the shorter his swing becomes, and the more prone he is to a slide and pop kind of shot. And the ball doesn't go very far. Working with his club pro, Mike is changing his swing to a turn and release style shot with a more complete backswing and a smooth, tension-free release of the club. At the recommendation of one of his golfing buddies, Mike played with compression arm sleeves to give the muscles in his arms a relaxed, tension-free feeling. It worked. Mike no longer tenses up before the shot and he can now execute a tension-free turn and release style swing generating effortless power. The relaxed, tension-free felling is why Mike wears golf arm sleeves.
Golf Arm Sleeves - Keeping annoying insects away
Susan golfs with arm sleeves to address a problem common to twilight golfers, the dreaded blood-sucking insects that come out at the end of the day. Susan's golf arm sleeves keep the bugs off her arms. But even better than that, since the cooling and moisture wicking properties of arm sleeves keep Susan's arms from becoming hot and sweaty, those chemical and heat sensing bugs don't find her in the first place.
Golf Arm Sleeves - Keeping the triangle together
Next is Brian who is always working on his golf swing and takes lessons at a leading golf academy. Brian has a perfect arm triangle and maintains it throughout his swing. He works on it all the time and claims that it is his swing thought and key to playing well. For Brian, golf arm sleeves give him a comfortable feeling and physical feedback of his arm position, especially in the takeway, that helps him keep his arm triangle together. It complements his swing thought and helps him with his approach to the game.
Golf Arm Sleeves - Achieving a consistent setup
Then there is Dave, a good low-90s player that struggles in achieving a consistent setup. Sometimes his right elbow is flared out at address, sometimes its tucked in. Sometimes he streches his arms out and reaches for the ball, sometimes he lets his arms hang down under his shoulders. Dave doesn't try to have different setups all throughout his game, it just happens. Dave finds that wearing golf arm sleeves promotes a comfortable and relaxed feeling in his arms. Without thinking much about it, his arms stay together and hang down from his shoulders in a relaxed, comfortable manner. No right elbow flaring out or reaching for the ball, just one consistent setup.
Golf Arm Sleeves - Better arm extension in release
Allison is one of those golfers that holds a pose. She is a college player who is on the range working on her release all the time. She will rehearse a half backswing and then rotate and release with her arms stretched straight out which she holds in pose as if she were in a photo shoot for a golf magazine. Though she looks stylish always wearing golf arm sleeves in a color or print design that matches her outfit, make no mistake about it, she wears her sleeves for function not form. For Allison, golf arm sleeves give her physical and visual feedback on what's happening with her release and they help her achieve a better arm extension. Given that she drives the ball 240 yards and is only 5'4" tall and 115 lbs, who can argue with that.
Golf Arm Sleeves - Quiet arms and hands for better putting
Next is Jeff, a good golfer and very good putter that averages 28 putts per round. Jeff putts with a pendulum motion keeping his hands and arms completely still. It is hard to imagine that Jeff needs any help with his putting, but he claims that the slight feeling of compression that his golf arm sleeves provides helps him to keep his arms and hands completely passive during his putting stroke. While Jeff appreciates the other things that arm sleeves do for him, it is help with his putting that is the main reason why he wears them.
Golf Arm Sleeves - Keeping warm without bundling up
Matt plays golf all year round. When he plays in cold weather he likes to wear golf arm sleeves because he doesn't like to feel bundled up and constricted. Golf arm sleeves keep his arms warm without the need to wear a long sleeve under shirt or long sleeve sweater. Matt finds that with his golf shirt, a sweater vest or short-sleeved pullover-style wind breaker, and his UV compression arm sleeves that he can play comfortably in weather ranging from 50 to 70 degrees. That was the initial reason Matt began wearing his golf arm sleeves. Now he wears them all the time.
Golf Arm Sleeves - Staying cool and dry when it is hot and humid
Finally we have Jason, one of those golfers that is fortunate enough to live in Florida and play all year around. For six months of the year, October through March, the Florida weather is ideal for golf, but for the other six months of the year, it is difficult to escape Florida's heat and humidity. Jason stumbled onto golf arm sleeves by accident. He was given a pair at a golf outing and wore them in his round. The moisture wicking properties wicked away perspiration keeping his arms dry and any kind of air movement such as a breeze or simply riding in the golf cart had an immediate cooling effect. He noticed how the arm sleeves made his arms feel as if they were in air conditioning and he much more preferred that feeling over the feeling of hot, dripping wet, sunblock and sweat coated arms.
Summary
The functional benefits of arm sleeves are many and most folks talk about such benefits in terms of function, protection, and recovery. There have been studies that have tried to credit or discredit whether or not wearing arm sleeves will improve an athlete's performance. Quality UV compression arm sleeves are not merely a fad or only fashion statement. And golf arm sleeves aren't worn for their generic features and benefits. Golfers that wear arm sleeves wear them for a specific reason. So, if you are a serious golfer or just an enthusiast that loves the game, perhaps the question is not why, but why not!
More Information on Golf Arm Sleeves
Uvoider UV Compression Arm Sleeves – Print Designs






UV Arm Sleeves 206 Checkerboard

UV Arm Sleeves 207 Army Camouflage

UV Arm Sleeves 212 Black/White

UV Arm Sleeves 213 Safety Yellow/Orange



UV Arm Sleeves 227 Stars and Strips



UV Arm Sleeves 230 Blue Gingham



UV Arm Sleeves 233 Black and White Chevrons





UV Arm Sleeves 238 Red/White/Green
Uvoider UV Compression Arm Sleeves – Solid Colors






UV Arm Sleeves 220 Admiral Blue





UV Arm Sleeves 225 Neon Yellow

UV Arm Sleeves 239 Skin Tone 1

UV Arm Sleeves 240 Skin Tone 2
Uvoider UV Compression Arm Sleeves – Sizes
The Uvoider UV Compression Arm Sleeves come in sizes that range from Youth Small to Adult 4XL.
| | | | | |
| --- | --- | --- | --- | --- |
| Size | Bicep (inches) | Length (inches) | Bicep (cm) | Length (cm) |
| YS | 6.5 in | 12.2 in | 16.5 cm | 31 cm |
| YM | 7.5 in | 13.4 in | 19.0 cm | 34 cm |
| YL | 8.5 in | 14.6 in | 21.6 cm | 37 cm |
| XXS | 9.5 in | 15.0 in | 24.1 cm | 38 cm |
| XS | 9.9 in | 15.4 in | 25.1 cm | 39 cm |
| S | 10.3 in | 16.1 in | 26.2 cm | 41 cm |
| M | 10.7 in | 16.9 in | 27.2 cm | 43 cm |
| L | 11.5 in | 17.7 in | 29.2 cm | 45 cm |
| XL | 12.5 in | 18.5 in | 31.8 cm | 47 cm |
| 2XL | 14.0 in | 18.5 in | 35.6 cm | 47 cm |
| 3XL | 15.5 in | 18.5 in | 39.4 cm | 47 cm |
| 4XL | 17+ in | 18.5 in | 43.2+ cm | 47 cm |
Arm Measurement Guidelines
To ensure proper fitting, measure around your relaxed bicep (not flexed). If you require further assistance, please contact a Customer Service Representative.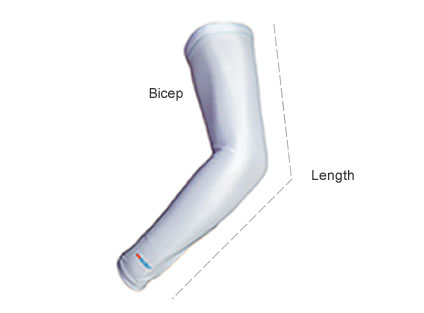 Uvoider UV Compression Arm Sleeves – Product Details
One pair (2 sleeves)
Fabric: 80% polyester/20% spandex
Machine wash and cool dry
Uvoider UV Compression Arm Sleeves – Features
Made of high quality polyester/spandex and utilize flat-lock stitching for comfort, fit and durability
Extreme UPF 50+ protection against UV rays
Blocks 99% of harmful UV radiation
Reduce muscle soreness and enable muscles to recover more quickly after sports or activities
Assist in blood circulation
Breathable, moisture wicking and quick-drying, keeping your arms cool
Anti-bacterial and odor resistant
Improve performance in endurance sports
Suitable for many sports, outdoor work, and activities
Protect your arms from scratches, abrasions, bugs and poison ivy when out on the trail or when gardening
Easily slipped on and off
Handy to have around and wear when needed
Convenient for traveling
Can be worn every time you are exposed to the sun
Provides sun protection as long as you have them on
Better than sunscreen which lasts only for 2 hours
Can be worn with your existing wardrobe
An alternative to long-sleeves clothing which can be expensive
Stylish and available in many colors and designs