Hot weather golf can be a challenge. Not only can you get hot physically, you can easily get hot under the collar mentally. Before too long, you can become aggravated, hot and sweaty, and no longer in the mood to play the game. It doesn't have to be this way. With a few changes, you can not only survive but enjoy hot weather golf. Here's how..!
Keep the sun off your head and neck
Unless you are a professional golfer being paid good money by a deep-pocketed sponsor to wear a golf cap, throw it away. A golf cap offers very little sun protection. Golf caps barely cover your head and only a little bit of your upper face while leaving the rest of your face, ears, nose and neck exposed to the harmful UV rays of the sun. This can result in sun damaged skin and can lead to skin cancer.
Ditch the golf cap and wear a wide-brimmed golf bucket hat.
Two excellent wide-brimmed hats to wear when playing golf in hot weather are the Uvoider All-Purpose Bucket Hat and the Uvoider Explorer Hat.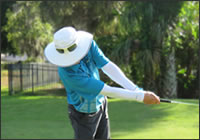 The Uvoider UV All-Purpose Bucket Hat is a casual sun hat that is very suitable for hot weather golf. Its wide brim provides increased sun shade for your eyes and neck, and it has an absorbent moisture-wicking sweatband and a narrow strip of breathable mesh for ventilation and comfort.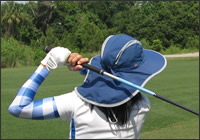 The Uvoider UV Explorer Hat is designed to provide the ultimate sun protection and coverage for your face and neck. The Explorer Hat is comfortable and lightweight with a very wide brim in the front and sides and a Legionnaire flap to keep your neck protected. A useful feature of the Explorer Hat is the Eyewear Grip™ which secures your glasses in place so they will never come off when you are making your swing.
Keep the sun off your arms and legs
Contrary to popular belief and habit, exposing your bare your skin to the sun is not the best way to stay cool. Far from it, especially when you are on the golf course. Wearing UV Compression Arm Sleeves keeps your arms cool in two ways. First, the UPF 50+ sun protection keeps the harmful rays of the sun from coming into contact with your skin. This alone keeps your arms from over exposure. But it gets even better. The moisture-wicking properties of the arm sleeves keeps your arms dry and as air passes over your skin your arms feel as if they are in air condition.
Don't forget your legs.
Wearing UV Compression Calf Sleeves will protect your legs the same way that arm sleeves protect your arms. Also, the compression of the calf sleeves will provide support and comfort to your calf muscles. So rather than losing your legs on the back nine, your legs will feel cool, dry and fresh throughout your entire round.
Keep the sweat and the bugs away
Hot and sweaty is not a good way to play golf. When you are hot and sweaty you are uncomfortable and your body is working extra hard to keep you cool. As your body temperature heats up and as you perspire more and more, this can lead to a wet golf glove, moist hands and fingers, and a slipping of your grip during your golf swing.
To make matters worse, as your body heats up and begins to sweat you become detectable to moisture and heat seeking insects and bugs that bite. A few bad shots and a few mosquito bites can quickly lead to an irritable, hot under the collar disposition.
Summary
For those that play hot weather golf with little regard to direct sun exposure, you are not just risking the joy of the game but your health and well being too. There are many compelling reasons to wear UV compression arm sleeves, calf sleeves and wide-brimmed hats from sun protection to game improvement. But perhaps the most compelling reason to wear sleeves and hats is not just finding a way to survive hot weather golf, but to actually enjoy hot weather golf and to look forward to playing the game.
More Information on Golf Arm Sleeves
Uvoider UV Arm Sleeves, Calf Sleeves and Wide-Brimmed Bucket Hats