Nothing gives me a better chuckle when I read the occasional post in a sports blog that suggests the only reason an athlete wears arm sleeves is because they are paid to or they want to look chic. From runners to golfers to cyclists to tennis players not to mention construction workers and landscaping professionals, arm sleeves can be seen just about everywhere you look including the bowling alley. Just look at Jason Belmonte! Belmo wouldn't wear arm sleeves unless there was a good reason. Well, here are 10 good reasons to wear bowling arm sleeves.
Bowling Arm Sleeves: Reason #1 - Muscle Support
The first and most compelling reason to wear bowling arm sleeves is for muscle support. The compression in arm sleeves increases blood flow and oxygenation. This keeps the muscle from tiring and prevents injury. The compression in arm sleeves also holds the muscles in your arm in place and ready for an athletic movement.
Bowling Arm Sleeves: Reason #2 - Muscle Relief
The second reason to wear bowling arm sleeves is for muscle relief. Arm muscles tire quickly. Just try holding your arm above your head. After a few seconds it becomes heavy and in no time at all you need to give it a rest. Immediately after your arm muscle is engaged the compression in arm sleeves provide quick relief to your muscles.
Bowling Arm Sleeves: Reason #3 - Arm Warmth
Another reason to wear arm sleeves when bowling is for arm warmth. If your arms get cold, your arm muscles get cold and stiff. This can cause inconsistency in your bowling and it also can cause injury. And some houses are down right cold. Wearing arm sleeves on not just your bowling arm but your off arm as well can keep you warm and comfortable.
Bowling Arm Sleeves: Reason #4 - Muscle Recovery
Compression arm sleeves are also good for muscle recovery. After you have finished a few games of bowling and certainly after you have finished a long practice session, leave your bowling arm sleeves on for a while. The arm sleeves with help your muscles to recovery more quickly.
Bowling Arm Sleeves: Reason #5 - Muscle Feel
Many athletes, including bowlers, simply like the way compression arm sleeves make your arms feel. The compression keeps your arms relaxed, yet ready for an athletic movement. In all sports that involved muscle movement, muscle relaxation is critical to consistent performance. Conversely, muscle tension produces weak, errant results.
Bowling Arm Sleeves: Reason #6 - Skin Protection
If your skin is already damaged such as having a cut or a burn or a skin condition such as a rash or an allergy, arm sleeves protect your arms and enable you to conduct your activity without risk of making your skin condition worse. Something as simple as an errant high five to your teammate could cause damage to an already existing skin condition.
Bowling Arm Sleeves: Reason #7 - Covering a Skin Condition
In addition to covering skin conditions for physical reasons such as to prevent further damage, arm sleeves can also keep out of sight any visible skin conditions that make you uncomfortable such as unsightly rashes, deep bruises, or skin outbreaks. Most sports folks are polite and have a good nature and few bowlers are outright rude, but for many folks covering up a skin condition just helps to keep the peace of mind.
Bowling Arm Sleeves: Reason #8 - Tape Support
For bowlers that use KT Tape, arm sleeves can be worn over the tape to keep it in place and prevent it from peeling. This is especially helpful if the KT Tape is being applied lengthwise over the elbow area spanning the lower and upper arm muscles.
Bowling Arm Sleeves: Reason #9 - Wiping Off Sweat
Another use of your bowling arm sleeves is to wipe sweat off your forehead. Most bowlers have a towel to keep their hands dry, but few want to use that same towel to dry off their forehead. With arm sleeves, you can easily brush off any sweat from your face and head and not worry about what might be on that dirty hand towel.
Bowling Arm Sleeves: Reason #10 - Style
Make no mistake about it. Sports arm sleeves are stylish and that goes for bowling too. Arm sleeves come in many different styles and colors and can match your team bowling shirt and attire or complement your awesome looking bowling ball.
Summary
The reasons to wear compression arm sleeves for bowling, like many other sports, are numerous. To think that arm sleeves are only worn by star bowlers that are paid to wear them or that they are only worn to make a fashion statement would be an error in judgment. Give them a try. Perhaps they will give you the muscle support, relaxation, and confidence you need to make lots of strikes, pick up your splits, and bowl your best.
Uvoider UV Compression Arm Sleeves – Print Designs






UV Arm Sleeves 206 Checkerboard

UV Arm Sleeves 207 Army Camouflage

UV Arm Sleeves 212 Black/White

UV Arm Sleeves 213 Safety Yellow/Orange



UV Arm Sleeves 227 Stars and Strips



UV Arm Sleeves 230 Blue Gingham



UV Arm Sleeves 233 Black and White Chevrons





UV Arm Sleeves 238 Red/White/Green
Uvoider UV Compression Arm Sleeves – Solid Colors






UV Arm Sleeves 220 Admiral Blue





UV Arm Sleeves 225 Neon Yellow

UV Arm Sleeves 239 Skin Tone 1

UV Arm Sleeves 240 Skin Tone 2
Uvoider UV Compression Arm Sleeves – Sizes
The Uvoider UV Compression Arm Sleeves come in sizes that range from Youth Small to Adult 4XL.
| | | | | |
| --- | --- | --- | --- | --- |
| Size | Bicep (inches) | Length (inches) | Bicep (cm) | Length (cm) |
| YS | 6.5 in | 12.2 in | 16.5 cm | 31 cm |
| YM | 7.5 in | 13.4 in | 19.0 cm | 34 cm |
| YL | 8.5 in | 14.6 in | 21.6 cm | 37 cm |
| XXS | 9.5 in | 15.0 in | 24.1 cm | 38 cm |
| XS | 9.9 in | 15.4 in | 25.1 cm | 39 cm |
| S | 10.3 in | 16.1 in | 26.2 cm | 41 cm |
| M | 10.7 in | 16.9 in | 27.2 cm | 43 cm |
| L | 11.5 in | 17.7 in | 29.2 cm | 45 cm |
| XL | 12.5 in | 18.5 in | 31.8 cm | 47 cm |
| 2XL | 14.0 in | 18.5 in | 35.6 cm | 47 cm |
| 3XL | 15.5 in | 18.5 in | 39.4 cm | 47 cm |
| 4XL | 17+ in | 18.5 in | 43.2+ cm | 47 cm |
Arm Measurement Guidelines
To ensure proper fitting, measure around your relaxed bicep (not flexed). If you require further assistance, please contact a Customer Service Representative.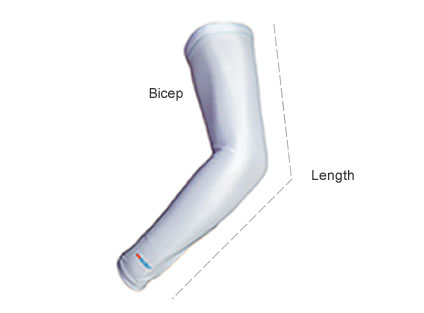 Uvoider UV Compression Arm Sleeves – Product Details
One pair (2 sleeves)
Fabric: 80% polyester/20% spandex
Machine wash and cool dry
Uvoider UV Compression Arm Sleeves – Features
Made of high quality polyester/spandex and utilize flat-lock stitching for comfort, fit and durability
Extreme UPF 50+ protection against UV rays
Blocks 99% of harmful UV radiation
Reduce muscle soreness and enable muscles to recover more quickly after sports or activities
Assist in blood circulation
Breathable, moisture wicking and quick-drying, keeping your arms cool
Anti-bacterial and odor resistant
Improve performance in endurance sports
Suitable for many sports, outdoor work, and activities
Protect your arms from scratches, abrasions, bugs and poison ivy when out on the trail or when gardening
Easily slipped on and off
Handy to have around and wear when needed
Convenient for traveling
Can be worn every time you are exposed to the sun
Provides sun protection as long as you have them on
Better than sunscreen which lasts only for 2 hours
Can be worn with your existing wardrobe
An alternative to long-sleeves clothing which can be expensive
Stylish and available in many colors and designs