Most golfers understand that a good golf swing starts with a good golf grip. When golfers think about their golf grip, regrettably their thinking is usually limited to two things. First, how to grip the club in terms of the placement of the fingers and hands. And second, what kinds of golf grips should be put on their golf clubs and used. Often overlooked altogether is that which is most important in having not just a good golf grip, but your best golf grip.
Third Most Important Golf Grip Consideration - How you hold the club
Make no mistake about it, how you hold the club is very important. It is natural to think of this first and to overthink it. How you place your fingers and how you place your hands are very important in having a good grip and repeatable golf swing.
There are different kinds of grips such as the overlapping group, the interlocking group, and the ten finger grip and there are different gripping techniques from weak to neutral to strong. It is not so much a matter of the one right way to hold the club, but rather the way to hold the club that is most right for you.
With instruction and practice you can learn different grips and techniques and find the best grip for the kind of golf game that you want to have.
Second Most Important Golf Grip Consideration - The grip on your club
Many teaching professionals advocate that as important as the grip you make with your hands and fingers is, the grip that is on your golf club is even more important. Why is that? Well, a worn down or slick grip on your golf club will have a major and bad impact on your golf swing.
First, if your golf grip is worn out or slick, you will not be able to hold the club lightly. You will have to grip it tightly and with too much tension. This will cause the speed of the club head to decrease resulting in a loss of distance and control.
Second, worn out grips are hard to hold. As you make your swing, worn out grips will slip in your hand. Sometimes the slip happens at the top of your back swing as the hinge momentum causes the fingers to lose their hold. Other times the slip happens on your down swing as or just before you make impact with the ball. In either case, a slipped grip almost always produces an undesirable shot.
And third, worn out slick grips can interfere with your thinking. Golf is often called a thinking person's game and for good reason. In golf, there is a lot to think about and even more that you don't want to think about. Worrying about whether or not your grip will slip in your swing is just one more unnecessary and unhelpful thought to have. Worrying about your golf grips will interfere with your confidence and then soon interfere with your game.
Most Important Golf Grip Consideration - Dry, relaxed and tension free
In order to maximize distance and control the direction of the golf ball, you must be able to whip the grip as the old pros say. That is you must be able to swing the golf club in a tension free manner. In order to swing tension free, your must have a relaxed grip and in order to have a relaxed grip, you must have a dry grip. To achieve a dry, relaxed and tension free grip, there are a few things that you might find helpful.
First, always have on your bag a good, absorbent towel that you can use to wipe away sweat and moisture from your arms, hands and fingers. This is not the towel you use to clean your golf ball and your golf clubs, so have a separate towel for that. Never hit a shot with wet, slippery hands.
Second, wear a quality golf glove on your lead hand. For a right handed golfer, this would be your left hand and for a left handed golfer this would be your right hand. A golf glove greatly helps you to establish and maintain a good, tension free grip. For hot weather golf and rainy weather golf, always carry and extra golf glove or two so you can change them out as needed.
And third, if you are not wearing them already, wear a quality pair of UV compression golf sleeves. There are many reasons to wear UV compression golf sleeves. The UV protection keeps your arms safe from the harmful rays of the sun which can cause skin cancer. The compression provides comfort and support to your arm muscles and promotes a connected feeling and tension free golf swing. And UV compression golf arm sleeves are very helpful for your grip as the arm sleeves wick away moisture and keep your arms cool and dry which in turn keeps your hands and fingers dry.
Summary
No matter how you hold the club and no matter golf club grips you use, the golf grip must be dry, relaxed, and tension free. If not, how you place your hands and fingers and what kind of golf grip you put on your club makes very little difference. So if you want to achieve your best golf grip and play your best golf, be sure to always have a good towel, a good golf glove, and a good pair of UV compression golf arm sleeves.
More Information on Golf Arm Sleeves
Uvoider UV Compression Golf Arm Sleeves – Print Designs


UV Arm Sleeves 201 Dreamtime



UV Arm Sleeves 202 Bayside



UV Arm Sleeves 203 Peppermint



UV Arm Sleeves 204 Pacific



UV Arm Sleeves 202 Bayside



UV Arm Sleeves 206 Checkerboard



UV Arm Sleeves 212 Black/White



UV Arm Sleeves 213 Safety Yellow/Orange



UV Arm Sleeves 214 Rainbow



UV Arm Sleeves 226 Red/White



UV Arm Sleeves 227 Stars and Strips



UV Arm Sleeves 228 USA Flag 1



UV Arm Sleeves 229 USA Flag 2



UV Arm Sleeves 230 Blue Gingham



UV Arm Sleeves 231 Atlantis



UV Arm Sleeves 232 Fiesta



UV Arm Sleeves 233 Black and White Chevrons



UV Arm Sleeves 234 Zinger



UV Arm Sleeves 235 Piccadilly



UV Arm Sleeves 236 Luna



UV Arm Sleeves 237 Dublin



UV Arm Sleeves 238 Red/White/Green
Uvoider UV Compression Golf Arm Sleeves – Solid Colors


UV Arm Sleeves 215 White



UV Arm Sleeves 216 Black



UV Arm Sleeves 217 Cool Grey



UV Arm Sleeves 218 Light Pink



UV Arm Sleeves 219 Fuchsia



UV Arm Sleeves 220 Admiral Blue



UV Arm Sleeves 221 Navy



UV Arm Sleeves 222 Blue Jay



UV Arm Sleeves 223 Team Red



UV Arm Sleeves 224 Garnet



UV Arm Sleeves 225 Neon Yellow



UV Arm Sleeves 239 Skin Tone 1



UV Arm Sleeves 240 Skin Tone 2
Uvoider UV Compression Golf Arm Sleeves – Sizes
The Uvoider UV Compression Arm Sleeves come in sizes that range from Youth Small to Adult 4XL.
| | | | | |
| --- | --- | --- | --- | --- |
| Size | Bicep (inches) | Length (inches) | Bicep (cm) | Length (cm) |
| YS | 6.5 in | 12.2 in | 16.5 cm | 31 cm |
| YM | 7.5 in | 13.4 in | 19.0 cm | 34 cm |
| YL | 8.5 in | 14.6 in | 21.6 cm | 37 cm |
| XXS | 9.5 in | 15.0 in | 24.1 cm | 38 cm |
| XS | 9.9 in | 15.4 in | 25.1 cm | 39 cm |
| S | 10.3 in | 16.1 in | 26.2 cm | 41 cm |
| M | 10.7 in | 16.9 in | 27.2 cm | 43 cm |
| L | 11.5 in | 17.7 in | 29.2 cm | 45 cm |
| XL | 12.5 in | 18.5 in | 31.8 cm | 47 cm |
| 2XL | 14.0 in | 18.5 in | 35.6 cm | 47 cm |
| 3XL | 15.5 in | 18.5 in | 39.4 cm | 47 cm |
| 4XL | 17+ in | 18.5 in | 43.2+ cm | 47 cm |
Arm Measurement Guidelines
To ensure proper fitting, measure around your relaxed bicep (not flexed). If you require further assistance, please contact a Customer Service Representative.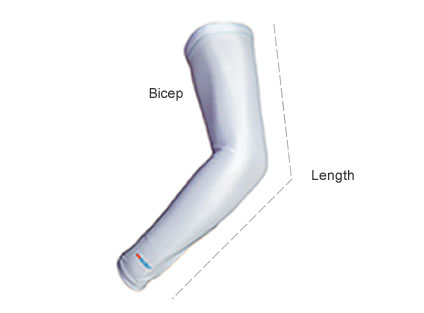 Uvoider UV Compression Arm Sleeves – Product Details
One pair (2 sleeves)
Fabric: 80% polyester/20% spandex
Machine wash and cool dry
Uvoider UV Compression Arm Sleeves – Features
Made of high quality polyester/spandex and utilize flat-lock stitching for comfort, fit and durability
Extreme UPF 50+ protection against UV rays
Blocks 99% of harmful UV radiation
Reduce muscle soreness and enable muscles to recover more quickly after sports or activities
Assist in blood circulation
Breathable, moisture wicking and quick-drying, keeping your arms cool
Anti-bacterial and odor resistant
Improve performance in endurance sports
Suitable for many sports, outdoor work, and activities
Protect your arms from scratches, abrasions, bugs and poison ivy when out on the trail or when gardening
Easily slipped on and off
Handy to have around and wear when needed
Convenient for traveling
Can be worn every time you are exposed to the sun
Provides sun protection as long as you have them on
Better than sunscreen which lasts only for 2 hours
Can be worn with your existing wardrobe
An alternative to long-sleeves clothing which can be expensive
Stylish and available in many colors and designs
More Information