Women's golf is incredibly competitive and exciting to watch with amazing golf swings and talent on display. Also on display and worn increasingly by women golfers are golf sleeves. Why? Because golf sleeves help you play better, they protect your skin from the sun, and they feel and look cool. Consider the following.
How Golf Sleeves Help You Swing Better
As a product suitable for many applications, UV compression arm sleeves are especially beneficial for all golfers, especially women golfers. This is on account of the compression fit that supports your arm muscles from just below your shoulder to just above your wrist. Here are some of the many ways that this muscle support and compression feeling will help women golfers swing and play better.
Staying connected for longer and straighter drives. Lisa is a collegiate golfer that carries a 4 handicap. Despite being a great golfer, Lisa has always struggled with a slight over swing where her hands and arms become disconnected from the rest of her body. Like many golfers that wear golf sleeves, Lisa finds that they give her swing a connected feeling enabling her to execute a golf swing with quiet, passive hands and arms as if they are extensions to her muscle core. The result is longer and straighter drives and better scoring opportunities.
Swinging tension-free for effortless power. Carolyn makes it look too easy. It wasn't always that way, but with a few lessons and lots of determination, Carolyn completely changed her swing and approach to the game. She traded in a tense swing that relied upon a powerful effort in favor of a tension-free swing that provided effortless power. Now, she has a swing that looks as if she is not even trying to hit the ball, yet the ball goes far and straight. Carolyn finds that golf sleeves help her to maintain a relaxed, tension-free feeling which is essential to her swing and golfing state of mind.
Keeping the arm triangle together. For Jo, it is all about the arm triangle. That is her swing key and main swing thought. Like many golfers, Jo finds that golf sleeves give her a comfortable feeling and physical feedback on her arm position. This helps her maintain her arm triangle during the takeaway which sets up the rest of her swing.
Better arm extension in release. Allison is one of those golfers that holds a pose. She is a college player who is on the range working on her release all the time. She will rehearse a half backswing and then rotate and release with her arms stretched straight out which she holds in pose as if she were in a photo shoot for a golf magazine. For Allison, golf sleeves give her physical and visual feedback on what's happening with her release and they help her achieve a better arm extension. Given that she drives the ball 240 yards and is only 5'4″ tall and 115 lbs, who can argue with that.
Quiet arms and hands for better putting. Nancy is a Christie Kerr like putter that rarely takes more than 28 putts per round. The key to Nancy's putting is her quiet arms and hands. Nancy finds that the feeling of compression and muscle support that golf sleeves give each of her arms helps to make her putting stroke feel like a well-connected and balanced pendulum.
Dryer arms and hands for a no slip grip. Like many golfers that play in hot, humid weather, Laura struggles with her grip. Perspiration from her arms finds its way to her hands and makes her golf glove wet and slippery. Slopping on sunscreen only seems to contribute to the wet mess. Golf sleeves kill two birds with one stone. They keep Laura's arms sun protected and dry. This in turn keeps her hands and golf glove dry allowing her to grip the club well on even the hottest and most humid of golfing days.
How Golf Sleeves Protect Your Skin
Protecting your skin is one of the leading reasons that people wear arm sleeves. When you are outside for extended periods of time, your skin is exposed to not just the sun but other elements of nature from prickly bushes to bugs that bite that can damage your skin. Arguably, golfers are at high risk of skin damage as they inherently place themselves in the outdoors for extended periods of time. Here are a few of the many ways that golf sleeves have helped women golfers protect their skin while enjoy the game.
Keeping the harmful rays of the sun off your arms. Meghan is a high risk golfer. This has nothing to do with her ability, but rather her genes. Of Irish descent, red haired, and full of freckles, Meghan is a high risk candidate of getting skin cancer. After finding and having a precancerous growth removed, Meghan now takes skin protection very seriously. Golf sleeves give her much more effective protection than sunscreen. And unlike sunscreen that is messy and must be reapplied every two hours, golf sleeves are mess free and keep you protected as long as you have them on.
Keeping annoying insects away. Susan golfs with arm sleeves to address a problem common to twilight golfers, the dreaded blood-sucking insects that come out at the end of the day. Susan's golf sleeves keep the bugs off her arms. But even better than that, since the cooling and moisture wicking properties of golf sleeves keep Susan's arms from becoming hot and sweaty, those chemical and heat sensing bugs don't find her in the first place.
Avoiding cuts and scratches. Karen is one of those golfers that looks for golf balls as she plays. For Karen, being under par means that she found more golf balls than she lost. But whether it is looking for golf balls in the bushes or at water's edge, Karen finds ways to cut and scratch her arms. She started wearing golf arm sleeves for sun protection, but finds that they are especially fitting for her on account of the protection that they provide to her skin. Now she can avoid cuts and scratches as she pursues under par golf.
How Golf Sleeves Keep You Feeling and Looking Cool
Golf sleeves make you cool, not just cool looking but cool feeling. As you perspire, the moisture wicking fabric of golf sleeves wicks away your sweat. This does two things. First, it keeps your arms dry. And second, it leaves them feeling cool. And if there is any air movement such as a small breeze, golf sleeves will make your arms feel as if they are in air condition.
The last but not necessarily least reason to wear golf sleeves is how cool they make you look. White golf sleeves will go with just about any golf outfit. And for golfers that like to play good and look even better, there are all kinds of colors, designs and styles that can complement your existing golfing attire.
Summary
There are many reasons to wear golf arm sleeves. They help you swing better, avoid the harmful UV rays of the sun, and they keep you looking and feeling cool. One could perhaps build a business case that as an alternative to the cost of sunscreen, a pair of golf sleeves likely pays for itself over the course of a season. But the real reason to wear golf sleeves is that they really work. So if you are not wearing them already, you might want to consider giving them a try. What do you have to lose? Just maybe, a few strokes..!
More Information on Golf Arm Sleeves
Uvoider UV Compression Arm Sleeves – Print Designs






UV Arm Sleeves 206 Checkerboard

UV Arm Sleeves 207 Army Camouflage

UV Arm Sleeves 212 Black/White

UV Arm Sleeves 213 Safety Yellow/Orange



UV Arm Sleeves 227 Stars and Strips



UV Arm Sleeves 230 Blue Gingham



UV Arm Sleeves 233 Black and White Chevrons





UV Arm Sleeves 238 Red/White/Green
Uvoider UV Compression Arm Sleeves – Solid Colors






UV Arm Sleeves 220 Admiral Blue





UV Arm Sleeves 225 Neon Yellow

UV Arm Sleeves 239 Skin Tone 1

UV Arm Sleeves 240 Skin Tone 2
Uvoider UV Compression Arm Sleeves – Sizes
The Uvoider UV Compression Arm Sleeves come in sizes that range from Youth Small to Adult 4XL.
| | | | | |
| --- | --- | --- | --- | --- |
| Size | Bicep (inches) | Length (inches) | Bicep (cm) | Length (cm) |
| YS | 6.5 in | 12.2 in | 16.5 cm | 31 cm |
| YM | 7.5 in | 13.4 in | 19.0 cm | 34 cm |
| YL | 8.5 in | 14.6 in | 21.6 cm | 37 cm |
| XXS | 9.5 in | 15.0 in | 24.1 cm | 38 cm |
| XS | 9.9 in | 15.4 in | 25.1 cm | 39 cm |
| S | 10.3 in | 16.1 in | 26.2 cm | 41 cm |
| M | 10.7 in | 16.9 in | 27.2 cm | 43 cm |
| L | 11.5 in | 17.7 in | 29.2 cm | 45 cm |
| XL | 12.5 in | 18.5 in | 31.8 cm | 47 cm |
| 2XL | 14.0 in | 18.5 in | 35.6 cm | 47 cm |
| 3XL | 15.5 in | 18.5 in | 39.4 cm | 47 cm |
| 4XL | 17+ in | 18.5 in | 43.2+ cm | 47 cm |
Arm Measurement Guidelines
To ensure proper fitting, measure around your relaxed bicep (not flexed). If you require further assistance, please contact a Customer Service Representative.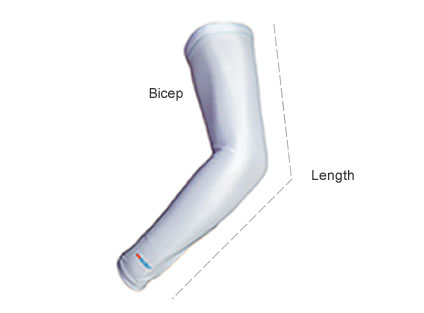 Uvoider UV Compression Arm Sleeves – Product Details
One pair (2 sleeves)
Price: $14.99
Fabric: 80% polyester/20% spandex
Machine wash and cool dry
Uvoider UV Compression Arm Sleeves – Features
Made of high quality polyester/spandex and utilize flat-lock stitching for comfort, fit and durability
Extreme UPF 50+ protection against UV rays
Blocks 99% of harmful UV radiation
Reduce muscle soreness and enable muscles to recover more quickly after sports or activities
Assist in blood circulation
Breathable, moisture wicking and quick-drying, keeping your arms cool
Anti-bacterial and odor resistant
Improve performance in endurance sports
Suitable for many sports, outdoor work, and activities
Protect your arms from scratches, abrasions, bugs and poison ivy when out on the trail or when gardening
Easily slipped on and off
Handy to have around and wear when needed
Convenient for traveling
Can be worn every time you are exposed to the sun
Provides sun protection as long as you have them on
Better than sunscreen which lasts only for 2 hours
Can be worn with your existing wardrobe
An alternative to long-sleeves clothing which can be expensive
Stylish and available in many colors and designs
More Information