Is your sensitive skin keeping you from enjoying a beautiful sunny day or even being outdoors? Do you go out and enjoy that beautiful sunny day anyway despite your sensitive skin, only to have to deal with the consequences later? Do you feel uncomfortable or embarrassed in public places during an outbreak or rash due to sensitive skin? If you answered yes to any of these questions, then you should consider UV Arm Sleeves.
What is sensitive skin
Many people know they have sensitive skin on account of how their skin feels after exposure to something that causes a reaction. Think of all of the things that your skin can have a reaction to such as skin care products, household cleaners, paints and chemicals, perfumes, insect sprays, and so on. And don't forget the harmful UV rays of the sun. According to dermatologists, sensitive skin is diagnosed as skin that has skin reactions such as bumps and pustules, excessive dryness which can result in damaged nerve endings, and skin flushing which is the warming and reddening of your skin caused by stress and anxiety.
How do you know if you have sensitive skin
The only way to tell for sure if you have sensitive skin is to see your dermatologist. A dermatologist will examine your skin and can tell you if you have sensitive skin, or if something else is causing your skin condition, or if your skin needs further testing.
What might be causing sensitive skin reactions
There are three main causes of sensitive skin reactions. First are various skin disorders such as eczema, psoriasis, rosacea, and allergic contact dermatitis. Second are overly dry skin and injured skin that can no longer protect nerve endings leading to skin reactions. And third are excessive exposures to harsh conditions such as sun, wind, and excessive heat or cold.
The sun is not a friend of sensitive skin
Long gone are the days of basking in the sun for hours to achieve a dark sun tan. Now, we know the health risks of exposure to the harmful UV rays of the sun. We also know that direct exposure to the sun can agitate skin conditions and illnesses. And people are even allergic to the sun. For those with sensitive skin, the sun is not a friend.
What people with sensitive skin consider
If you have sensitive skin then you know that you are always mindful to protect your sensitive skin from getting damaged in the first place. Sometimes this is in your control and at other times it is not. Once you have skin damage, you are keen to take measures to protect your skin and help it to recover. And then in some cases, when you have experienced skin damage or an outbreak, you want to keep it out of sight.
How UV Arm Sleeves can help
Quality UV Arm Sleeves can help people with sensitive skin. Wearing a pair of UV Arm Sleeves will protect sensitive skin from the harmful UV rays of the sun and other contact exposures. If you already have skin damage, bruising, or an outbreak, quality UV Arm Sleeves will help prevent further damage and allow you to enjoy outdoor activities. And last but not least, quality US Arm Sleeves can keep your skin damage out of sight.
Naturally, most people are considerate and interact with you no differently on account of any kind of skin condition that you may have. Nonetheless, having a visible skin condition can make some people self-conscious which can impact how they feel and how they perform. Perhaps there is no better example of this than the Olympic champion runner Sonya Richards-Ross who suffers from Behcet's disease - a rare condition that causes ulcers and lesions of the skin. She wears arm sleeves not to make a fashion statement, but because the lesions on her arms are psychologically distracting to her. Simply putting on a pair of sleeves is far less time consuming and bothersome for Sonya than having to apply skin make-up to cover her lesions. Considered a goddess for her athleticism and beauty, the stylish arm sleeves only complement Sonya's aura.
So if you have sensitive skin, consider protecting it with quality UV Arm Sleeves. Enjoy your favorite activities in comfort, protection, and style..!
Uvoider UV Compression Arm Sleeves – Skin Tone Colors

UV Arm Sleeves 239 Skin Tone 1

UV Arm Sleeves 240 Skin Tone 2
Uvoider UV Compression Arm Sleeves – Solid Colors






UV Arm Sleeves 220 Admiral Blue





UV Arm Sleeves 225 Neon Yellow
Uvoider UV Compression Arm Sleeves – Print Designs






UV Arm Sleeves 206 Checkerboard

UV Arm Sleeves 207 Army Camouflage

UV Arm Sleeves 212 Black/White

UV Arm Sleeves 213 Safety Yellow/Orange



UV Arm Sleeves 227 Stars and Strips



UV Arm Sleeves 230 Blue Gingham



UV Arm Sleeves 233 Black and White Chevrons





UV Arm Sleeves 238 Red/White/Green
Uvoider UV Compression Arm Sleeves – Sizes
The Uvoider UV Compression Arm Sleeves come in sizes that range from Youth Small to Adult 4XL.
| | | | | |
| --- | --- | --- | --- | --- |
| Size | Bicep (inches) | Length (inches) | Bicep (cm) | Length (cm) |
| YS | 6.5 in | 12.2 in | 16.5 cm | 31 cm |
| YM | 7.5 in | 13.4 in | 19.0 cm | 34 cm |
| YL | 8.5 in | 14.6 in | 21.6 cm | 37 cm |
| XXS | 9.5 in | 15.0 in | 24.1 cm | 38 cm |
| XS | 9.9 in | 15.4 in | 25.1 cm | 39 cm |
| S | 10.3 in | 16.1 in | 26.2 cm | 41 cm |
| M | 10.7 in | 16.9 in | 27.2 cm | 43 cm |
| L | 11.5 in | 17.7 in | 29.2 cm | 45 cm |
| XL | 12.5 in | 18.5 in | 31.8 cm | 47 cm |
| 2XL | 14.0 in | 18.5 in | 35.6 cm | 47 cm |
| 3XL | 15.5 in | 18.5 in | 39.4 cm | 47 cm |
| 4XL | 17+ in | 18.5 in | 43.2+ cm | 47 cm |
Arm Measurement Guidelines
To ensure proper fitting, measure around your relaxed bicep (not flexed). If you require further assistance, please contact a Customer Service Representative.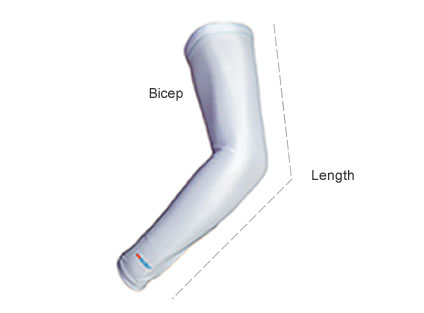 Uvoider UV Compression Arm Sleeves – Product Details
One pair (2 sleeves)
Fabric: 80% polyester/20% spandex
Machine wash and cool dry
Uvoider UV Compression Arm Sleeves – Features
Made of high quality polyester/spandex and utilize flat-lock stitching for comfort, fit and durability
Extreme UPF 50+ protection against UV rays
Blocks 99% of harmful UV radiation
Reduce muscle soreness and enable muscles to recover more quickly after sports or activities
Assist in blood circulation
Breathable, moisture wicking and quick-drying, keeping your arms cool
Anti-bacterial and odor resistant
Improve performance in endurance sports
Suitable for many sports, outdoor work, and activities
Protect your arms from scratches, abrasions, bugs and poison ivy when out on the trail or when gardening
Easily slipped on and off
Handy to have around and wear when needed
Convenient for traveling
Can be worn every time you are exposed to the sun
Provides sun protection as long as you have them on
Better than sunscreen which lasts only for 2 hours
Can be worn with your existing wardrobe
An alternative to long-sleeves clothing which can be expensive
Stylish and available in many colors and designs