Just about every golfer develops habits to play better golf, yet few golfers develop habits to avoid skin cancer when playing golf. In fact, accordingly to dermatologists like Dr. Michael Kaminer, "it seems as if many golfers go out of their way to get skin cancer." Don't put your skin and life at risk. Golf safely with these 10 best sun protection habits.
Sun Protection Habit #1: UPF 50+ Wide Brimmed Hat
If you are wearing a golf cap, throw it away now. Why? Because, it offers you very little sun protection and puts your nose, face, neck, and ears at risk of developing skin cancer. Just ask any golfer who has had to undergo the knife. Instead, you should wear a wide-brimmed hat such as a Uvoider UV All-Purpose Bucket Hat or a Uvoider UV Exporer Hat.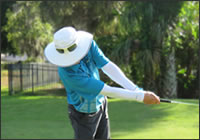 The Uvoider UV All-Purpose Bucket Hat is a casual sun hat that is very suitable for hot weather golf. Its wide brim provides increased sun shade for your eyes and neck, and it has an absorbent moisture-wicking sweatband and a narrow strip of breathable mesh for ventilation and comfort.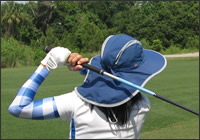 The Uvoider UV Explorer Hat is designed to provide the ultimate sun protection and coverage for your face and neck. The Explorer Hat is comfortable and lightweight with a very wide brim in the front and sides and a Legionnaire flap to keep your neck protected. A useful feature of the Explorer Hat is the Eyewear Grip™ which secures your glasses in place so they will never come off when you are making your swing.
As you golf, these Uvoider hats will provide you the ultimate sun protection and coverage for your ears, nose, face and neck. With less direct sunlight making contact with your skin, this protects your skin from harmful ultraviolet rays and keeps your body temperature cooler as you golf.
Sun Protection Habit #2: UPF 50+ Golf Shirt
Most golfers need to upgrade their wardrobe with sun protective clothing. Just ask Greg Norman who early in his golfing career suffered intense sunburns right through his golf shirts. If the label of your golf shirt does not indicate that it has UPF 50 sun protection or higher, don't wear it on hot, sunny days. Though nearly all leading golf-clothing manufacturers offer merchandise that has UPF protection, be mindful of discount brands or extremely low-priced golf shirts as they will likely be constructed with cheaper, non-UPF treated, fabrics.
Sun Protection Habit #3: UPF 50+ Golf Shorts
Just as with golf shirts, look for golf shorts that are constructed with UPF 50 or higher treated fabrics. Also, look for golf shorts with extra length in the legs to cover as much skin as possible. Ideally, you want your shorts to fit loose and comfortable and to come down to just above your knees. This will cover your skin, provide air flow, and keep your legs and body cool and dry.
Sun Protection Habit #4: UPF 50+ Arm Sleeves
There are many good and quite different reasons for wearing golf arm sleeves which are cited in the Uvoider Blog, April 6th, 2017 post, "UV Compression Arm Sleeves – Why golfers wear golf arm sleeves." Perhaps there is no better reason than protecting your skin from the harmful UV rays of the sun. Unlike sunblock which only lasts for two hours and is messy to slop on and wear and that results in your skin and body becoming very hot, arm sleeves are the exact opposite of all of this. Arm sleeves prevent the rays of the sun from hitting your arms and not just for two hours but for as long as you are wearing them. Arm sleeves wick away moisture keeping your skin and body feeling clean, cool and dry.
Sun Protection Habit #5: UPF 50+ Calf Sleeves
Calf sleeves are also great for golf and offer the same benefits for your legs that arm sleeves offer for your arms. Calf sleeves protect your legs from the sun and they keep your legs cool and dry. When you wear calf sleeves while you golf, no longer will your legs become hot and sweaty with dirt, grass, and bugs collecting at your ankles.
Sun Protection Habit #6: UPF 50+ Neckwear
Most golfers do not wear neckwear and overlook its importance. The neck is particularly at risk because golf caps provide no protection from the sun and even wide brimmed hats, as good as they are, cannot cover the entire neck from both direct and indirect sun exposure. Neckwear such as neck gaiters, tubular bandannas, and Uvoider UV Full Headwear and Uvoider UV Half Headwear can completely and comfortably cover the neck from the harmful rays of the sun. Neckwear will also keep your neck from getting hot and sweaty and becoming the target of heat and moisture seeking insects that bite.
Sun Protection Habit #7: Golf Glove
As a golfer, your dermatologist will always check your hands first for signs of skin cancer. Just ask Fred Couples who has had skin cancer on both hands and had to undergo the removal of 13 lesions. There is really no reason not to wear golf gloves on both hands. Just think about it. In cold and rainy weather, golfers often wear two gloves and don't think twice about it. The main reason golfers don't wear two gloves is usually just because it is harder grab things from your pockets like tees and ball marks, not because wearing two gloves will harm or interfere with your golf swing. And, there are actually some good reasons to wear two gloves such as keeping both hands dry, preventing blisters, and of course protecting your skin from the harmful rays of the sun. So consider gloving up with two golf gloves.
Sun Protection Habit #8: UV Golf Sunglasses
Overexposure to the sun can also damage eyes, impair vision, and lead to more serious conditions such as Photokeratitis, Pinguecula, Pterygium, Cataracts, and Macular Degeneration. When you play golf in the sun you should always wear sunglasses that work for you. Look for lenses that provide the vision experience you want and that completely shield and protect your eyes from harmful rays of the sun. Look for frames that provide a comfortable fit that stays in place throughout your swing and that block the sun from making contact with the corners of your eyes. Brand named golf sunglasses, like those worn by sponsored tour pros, can cost over $200, but there are also much less expensive UV golf sunglasses that you can buy online and at sporting goods stores.
Sun Protection Habit #9: SPF 50+ Lip Balm
Surprisingly, most people apply lip balm only after their lips have become dried, cracked, and sunburn. Golfers should keep lip balm in their golf bags and apply it at the start of their round and then again after eating or drinking. Lip cancer is the most common form of oral cancer and mostly affects men. The top risk factors for lip cancer include excessive sun exposure and of course tobacco use, especially pipe smoking.
Sun Protection Habit #10: SPF 50+ Sunblock
Though most golfers think of sunblock as the first, most important sun protection habit, it is actually the last habit to develop and employ. Why? Because it is better to cover your skin with sun protective wear than to put sunblock on your skin. Assuming it was very liberally applied, sunblock only lasts for two hours. Sunblock will not protect you for the duration of your round and you are likely not going to reapply it after the front nine. Also, sunblock makes you hot, wet, sweaty and highly detectable to heat and moisture seeking insects. So, develop the habit of covering as much of your skin as possible with sun protective clothing including arm sleeves, calf sleeves, neckwear, and even golf gloves on both hands. Then, for the few areas of your body that are not be covered up such as your knees and face, liberally apply sunblock.
Summary
Just as every golfer should develop good course management habits, so too should they develop good sun protection habits. Not only will you be sun protected and safer on the course, you might even discover that these 10 best sun protection habits will keep you cooler, more comfortable, more relaxed, less hot and bothered, and playing better and more enjoyable golf.
Uvoider Sun Protection Products for Golfers
Uvoider UV Compression Arm Sleeves – Print Designs


UV Arm Sleeves 201 Dreamtime


UV Arm Sleeves 202 Bayside


UV Arm Sleeves 203 Peppermint


UV Arm Sleeves 204 Pacific


UV Arm Sleeves 202 Bayside


UV Arm Sleeves 206 Checkerboard


UV Arm Sleeves 212 Black/White


UV Arm Sleeves 213 Safety Yellow/Orange


UV Arm Sleeves 214 Rainbow


UV Arm Sleeves 226 Red/White


UV Arm Sleeves 227 Stars and Strips


UV Arm Sleeves 228 USA Flag 1


UV Arm Sleeves 229 USA Flag 2


UV Arm Sleeves 230 Blue Gingham


UV Arm Sleeves 231 Atlantis


UV Arm Sleeves 232 Fiesta


UV Arm Sleeves 233 Black and White Chevrons


UV Arm Sleeves 234 Zinger


UV Arm Sleeves 235 Piccadilly


UV Arm Sleeves 236 Luna


UV Arm Sleeves 237 Dublin


UV Arm Sleeves 238 Red/White/Green
Uvoider UV Compression Arm Sleeves – Solid Colors


UV Arm Sleeves 215 White


UV Arm Sleeves 216 Black


UV Arm Sleeves 217 Cool Grey


UV Arm Sleeves 218 Light Pink


UV Arm Sleeves 219 Fuchsia


UV Arm Sleeves 220 Admiral Blue


UV Arm Sleeves 221 Navy


UV Arm Sleeves 222 Blue Jay


UV Arm Sleeves 223 Team Red


UV Arm Sleeves 224 Garnet


UV Arm Sleeves 225 Neon Yellow


UV Arm Sleeves 239 Skin Tone 1


UV Arm Sleeves 240 Skin Tone 2
Uvoider UV Compression Arm Sleeves – Sizes
The Uvoider UV Compression Arm Sleeves in Skin Tone colors come in sizes that range from Youth Small to Adult 4XL.
Size
Bicep
(inches)
Length
(inches)
Bicep
(cm)
Length
(cm)
YS
6.5 in
12.2 in
16.5 cm
31 cm
YM
7.5 in
13.4 in
19.0 cm
34 cm
YL
8.5 in
14.6 in
21.6 cm
37 cm
XXS
9.5 in
15.0 in
24.1 cm
38 cm
XS
9.9 in
15.4 in
25.1 cm
39 cm
S
10.3 in
16.1 in
26.2 cm
41 cm
M
10.7 in
16.9 in
27.2 cm
43 cm
L
11.5 in
17.7 in
29.2 cm
45 cm
XL
12.5 in
18.5 in
31.8 cm
47 cm
2XL
14.0 in
18.5 in
35.6 cm
47 cm
3XL
15.5 in
18.5 in
39.4 cm
47 cm
4XL
17+ in
18.5 in
43.2+ cm
47 cm
Arm Measurement Guidelines
To ensure proper fitting, measure around your relaxed bicep (not flexed).
If you require further assistance, please contact a Customer Service Representative.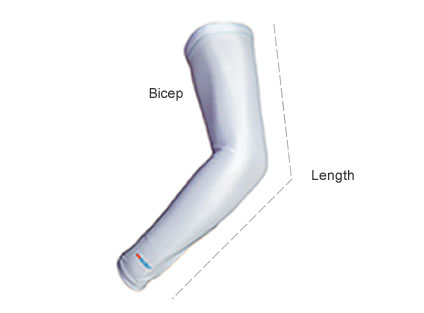 Uvoider UV Compression Arm Sleeves – Product Details
One pair (2 sleeves)
Fabric: 80% polyester/20% spandex
Machine wash and cool dry
Uvoider UV Compression Arm Sleeves – Features
Made of high quality polyester/spandex and utilize flat-lock stitching for comfort, fit and durability
Extreme UPF 50+ protection against UV rays
Blocks 99% of harmful UV radiation
Reduce muscle soreness and enable muscles to recover more quickly after sports or activities
Assist in blood circulation
Breathable, moisture wicking and quick-drying, keeping your arms cool
Anti-bacterial and odor resistant
Improve performance in endurance sports
Suitable for many sports, outdoor work, and activities
Protect your arms from scratches, abrasions, bugs and poison ivy when out on the trail or when gardening
Easily slipped on and off
Handy to have around and wear when needed
Convenient for traveling
Can be worn every time you are exposed to the sun
Provides sun protection as long as you have them on
Better than sunscreen which lasts only for 2 hours
Can be worn with your existing wardrobe
An alternative to long-sleeves clothing which can be expensive
Stylish and available in many colors and designs
Articles on Golf Arm Sleeves
More Information
Uvoider UV Compression Calf Sleeves – Colors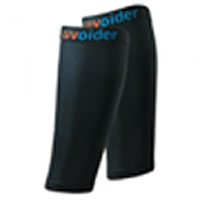 UV Calf Sleeves 401 Black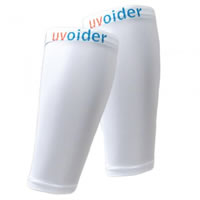 UV Calf Sleeves 402 White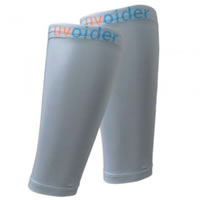 UV Calf Sleeves 403 Cool Grey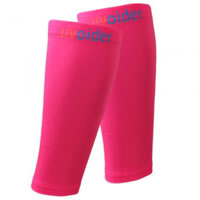 UV Calf Sleeves 404 Fuchsia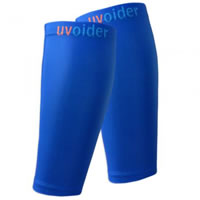 UV Calf Sleeves 405 Admiral Blue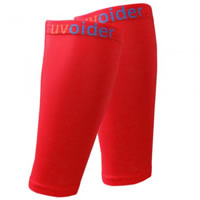 UV Calf Sleeves 406 Team Red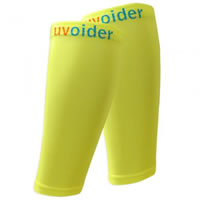 UV Calf Sleeves 407 Neon Yellow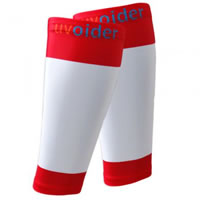 UV Calf Sleeves 408 Red/White
Uvoider UV Compression Calf Sleeves – Features
Made of high quality polyester/spandex and utilize flat-lock stitching for comfort, fit and durability
Extreme UPF 50+ protection against UV rays
Blocks 99% of harmful UV radiation
Reduce muscle soreness and enable muscles to recover more quickly after sports or activities
Assist in blood circulation
Breathable, moisture wicking and quick-drying, keeping your legs cool
Anti-bacterial and odor resistant
Improve performance in endurance sports
Suitable for many sports, outdoor work, and activities
Protect your arms from scratches, abrasions, bugs and poison ivy when out on the trail or when gardening
Easily slipped on and off
Handy to have around and wear when needed
Convenient for traveling
Can be worn every time you are exposed to the sun
Provides sun protection as long as you have them on
Better than sunscreen which lasts only for 2 hours
Can be worn with your existing wardrobe
Uvoider UV Compression Calf Sleeves – Product Details
One pair
Fabric: 80% polyester/20% spandex
Machine wash and cool dry
Imported
Uvoider UV Compression Calf Sleeves Size Chart
Size
Calf
(inches)
Calf
(cm)
XXS
10-12 in
25-30 cm
XS
11-13 in
28-33 cm
S
12-14 in
30-35 cm
M
13 – 14.5 in
33-37 cm
L
13.3-15.5 in
34-39 cm
XL
14-16 in
35-40 cm
2XL
15-17 in
38-43 cm
3XL
16-18 in
40-46 cm
4XL
17-19 in
43-48 cm
More Information
Uvoider UV Compression Calf Sleeves
Uvoider UV All-Purpose Bucket Hats


UV Bucket Hat 1001 White/Silver Grey

UV Bucket Hat 1002 White/Navy

UV Bucket Hat 1003 Tan/Dark Grey

UV Bucket Hat 1004 Flag Blue/Silver Grey

Uvoider UV Explorer Hats (Bucket Hat with Neck Flap)


UV Explorer Hat 2001 Vanilla/Navy

UV Explorer Hat 2002 Tan/Dark Grey

UV Explorer Hat 2003 Flag Blue/Silver Grey

UV Explorer Hat 2004 Bluish Teal/Silver Grey

UV Explorer Hat 2005 Plum/Silver Grey
More Uvoider UV Protection Products