Overexposure to the UV rays of the sun is harmful to your skin and it is even worse on your tattoos. Why? Because sunlight dulls the colors of your tattoos and makes them fade. Naturally, no one gets a beautiful arm tattoo only to cover it up and hide it from plain sight. But tattoos aren't cheap and you don't get one with the idea in mind that you will need to frequently have it touched up. So if you want your tattoo to remain vibrant and last, you need to protect it from the sun when you know you will be overexposed to it for extended periods of time. Know the warning signs of sun overexposure and have a pair of UV arm sleeves on hand. Or I should say, on arm!
Warning Signs of Sun Overexposure
Tanning. It is no secret that tanning is bad for your skin, but it is even worse for your tattoos. UV rays suck the life out of your tattoo. They cause the ink to fade and become less brilliant. If you love your tattoos and want them to remain vibrant and looking their best, then your tanning days whether at the beach or poolside or at the tanning bed are over.
Sweating. When it comes to sweating and tattoos, there is good news and bad news. The good news is that sweating does not damage an already existing, healthy tattoo. The bad news is that sweating, especially profuse sweating, can damage a new tattoo. It is best to think of a new tattoo as a wound. You must care for it, because how the wound heals affects not just the quality of the tattoo but the health and function of your skin. Allow your new tattoo to heal. Keep the sun off your skin and avoid sweating.
Time of Day. When it comes to overexposure to the sun, there are two things you need to remember. First, the hottest time of the day is not at 12 noon, rather it is at 3pm. This is because the heat continues to build up after noon. So, don't think that the afternoon hours are safe. They're not. And second, the safest times to be outside in the sun are before 10am and after 4pm. So if your schedule permits, plan your outdoor activities in the morning or at the end of the day.
Driving. Did you know that you can get sunburn through the glass of a car window? And you certainly can get sunburn when driving your car or truck on a hot, sunny day with your arm hanging out the window. If you drive in the sun, a good rule of thumb is to keep the sun off of your tattoo. Even if you are inside your air conditioned car, if the sun is beaming down on your tattoo you are putting it at risk.
Feeling the Sun. Generally speaking, every time you feel the sun on your tattoo, you should take a moment to think about whether or not you are overexposing it to the UV rays of the sun. Having a beautiful tattoo that you want to keep that way doesn't mean that you have to stay indoors. But it does mean that you have to be sun aware and plan accordingly. When you make it a habit to protect your tattoo, it becomes second nature and you do it without thinking such as walking or sitting in the shade instead of the sun, slipping on a pair of UV arm sleeves before mowing the lawn, or going for a run in the morning instead of at noon. When you don't make it a habit to protect your tattoo, you never have on hand what you need and you end up with a tattoo that no longer looks crisp and brilliant.
When to Cover Tattoos with UV Arm Sleeves
Extended exposure. When you know that you will be in the sun for an extended period of time, you should plan to protect your tattoo. Such work activities like mowing the lawn, painting the house, and working on the roof as well as pleasure activities such as playing softball, having a picnic, or taking a hike keeps your tattoo in the sun for an extended period of time. This can lead to sun tanning or even sun burning both of which prematurely age and dull your tattoo. Bear in mind that sunscreen only works for about 2 hours and is messy to boot. A better alternative to applying and reapplying sunscreen and the mess of it all are UV sleeves. Your tattoo is sun protected as long as you are wearing them and there is no mess.
Intense exposure. When your tattoo is being directly hit by the UV rays of the sun on hot, sunny days, it is getting intense exposure to the sun. Intense exposure can cause damage to your skin and your tattoo in as little as 15 minutes. And if your tattoo is getting intense exposure for longer periods of time, you run the risk of serious skin damage which can also damage your tattoo. Always avoid intense exposure to the sun. The best defense against intense exposure to the sun is avoidance when possible and covering up when not.
Incidental exposure. People often get exposure to the sun and aren't even aware of it. You might be standing at a bus stop or walking from the parking lot to the grocery store or just out and about doing errands. Without consciously being aware of it, you might be subjecting your tattoo to hours of sun exposure. Unless you just want to have your tattoo be visible at all times, make it a habit to put on a UV sleeve and protect your tattoo from incidental exposure to the sun. The definition and colors of your tattoo will remain brilliant and you will be extending the appeal and life of your tattoo.
Indirect exposure. Did you know that you can get sun exposure while sitting in the shade? This is on account of the fact the the UV rays of the sun can reach the skin indirectly. UV light is in essence radiation. UV light is scattered by the clouds and other elements in the atmosphere and it can bounce off reflective surfaces like concrete, sand, water, snow, metal, and glass. So even though you are sitting in the shade under a tree or in a courtyard, you are getting indirect exposure to the sun.
Summary
As part of ongoing tattoo care, be aware of the warning signs of sun overexposure and the many different kinds of sun exposure. To keep your tattoo looking new, brilliant, and well defined, take care of it. Cover it up with UV arm sleeves when there is no reason to bare your tattoo to the harmful UV rays of the sun. Keep your skin healthy and tattoo looking great.
Uvoider UV Compression Arm Sleeves – Skin Tone Colors

UV Arm Sleeves 239 Skin Tone 1

UV Arm Sleeves 240 Skin Tone 2
Uvoider UV Compression Arm Sleeves – Print Designs






UV Arm Sleeves 206 Checkerboard

UV Arm Sleeves 207 Army Camouflage

UV Arm Sleeves 212 Black/White

UV Arm Sleeves 213 Safety Yellow/Orange



UV Arm Sleeves 227 Stars and Strips



UV Arm Sleeves 230 Blue Gingham



UV Arm Sleeves 233 Black and White Chevrons





UV Arm Sleeves 238 Red/White/Green
Uvoider UV Compression Arm Sleeves – Solid Colors






UV Arm Sleeves 220 Admiral Blue





UV Arm Sleeves 225 Neon Yellow
Uvoider UV Compression Arm Sleeves – Sizes
The Uvoider UV Compression Arm Sleeves come in sizes that range from Youth Small to Adult 4XL.
| | | | | |
| --- | --- | --- | --- | --- |
| Size | Bicep (inches) | Length (inches) | Bicep (cm) | Length (cm) |
| YS | 6.5 in | 12.2 in | 16.5 cm | 31 cm |
| YM | 7.5 in | 13.4 in | 19.0 cm | 34 cm |
| YL | 8.5 in | 14.6 in | 21.6 cm | 37 cm |
| XXS | 9.5 in | 15.0 in | 24.1 cm | 38 cm |
| XS | 9.9 in | 15.4 in | 25.1 cm | 39 cm |
| S | 10.3 in | 16.1 in | 26.2 cm | 41 cm |
| M | 10.7 in | 16.9 in | 27.2 cm | 43 cm |
| L | 11.5 in | 17.7 in | 29.2 cm | 45 cm |
| XL | 12.5 in | 18.5 in | 31.8 cm | 47 cm |
| 2XL | 14.0 in | 18.5 in | 35.6 cm | 47 cm |
| 3XL | 15.5 in | 18.5 in | 39.4 cm | 47 cm |
| 4XL | 17+ in | 18.5 in | 43.2+ cm | 47 cm |
Arm Measurement Guidelines
To ensure proper fitting, measure around your relaxed bicep (not flexed). If you require further assistance, please contact a Customer Service Representative.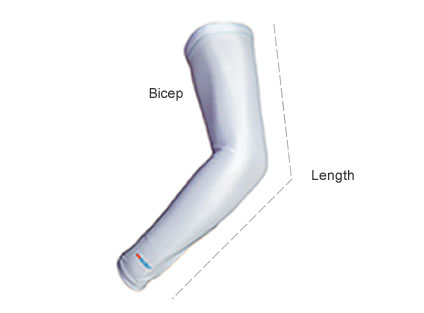 Uvoider UV Compression Arm Sleeves – Product Details
One pair (2 sleeves)
Fabric: 80% polyester/20% spandex
Machine wash and cool dry
Uvoider UV Compression Arm Sleeves – Features
Made of high quality polyester/spandex and utilize flat-lock stitching for comfort, fit and durability
Extreme UPF 50+ protection against UV rays
Blocks 99% of harmful UV radiation
Reduce muscle soreness and enable muscles to recover more quickly after sports or activities
Assist in blood circulation
Breathable, moisture wicking and quick-drying, keeping your arms cool
Anti-bacterial and odor resistant
Improve performance in endurance sports
Suitable for many sports, outdoor work, and activities
Protect your arms from scratches, abrasions, bugs and poison ivy when out on the trail or when gardening
Easily slipped on and off
Handy to have around and wear when needed
Convenient for traveling
Can be worn every time you are exposed to the sun
Provides sun protection as long as you have them on
Better than sunscreen which lasts only for 2 hours
Can be worn with your existing wardrobe
An alternative to long-sleeves clothing which can be expensive
Stylish and available in many colors and designs
More Information