There are many reasons to wear UV compression arm sleeves and they come in all kinds of colors. Surprisingly, one of the most popular colors of UV compression arm sleeves is skin tone. Here are ten reasons why people choose the skin tone color for their UV compression arm sleeves.
Reason #1: Covering a Tattoo
Increasingly, workplaces are becoming more and more tattoo friendly and that's a good thing. However, from time to time employees of a company or organization and even customers may need or want to cover their tattoos. Without getting into the debate and nuances of company policies for tattoos and present social norms, when you need or want to cover a tattoo a skin tone colored arm sleeve not only covers your tattoo but may very well even go unnoticed by the folks with which you are working or socializing.
Reason #2: Protecting a Tattoo
Another reason you might wear an arm sleeve over a tattoo is to protect your tattoo. Most folks listen to their tattoo artist, read the tattoo aftercare sheet and take care to protect their new tattoo. But tattoo care is needed for the life of your tattoo, not just the first few days. If you want to keep the colors of your tattoo vivid and prevent fading, you might want to think twice before exposing your tattoo to the UV rays of the sun for extended periods of time. Whether playing a round of golf, deep sea fishing or just enjoying a summer weekend at the beach, exposure to the sun will cause your tattoo to fade and the colors to become increasingly less vivid. But it doesn't have to be this way. You can slip on a pair of UV arm sleeves to protect your tattoo during those times when your are extremely exposed to the sun and no one is really around to see your tattoo anyway. And then once you are out of the harmful UV rays of the sun, you can slip off your arm sleeves. Making a habit to wear UV arm sleeves protects and gives longer life to the investment you have made in your tattoo.
Reason #3: Workplace Comfort
Some workplaces are just the right temperature. However, there are those workplaces that can be way too cold at times and then far too warm at other times. For example, if you work at a grocery store you might find the temperature inside the store to be a bit on the cold side. A sweater makes you too hot, but without the sweater you are too cold. You don't need another layer of clothing, you just need to cover your arms with a pair of arm sleeves. Likewise, if you work at a nursery, plants and flowers not babies, you might find that the outside temperature is hotter than you would like. Rather than getting all hot and sweaty, wearing a pair of UV arm sleeves actually cools you down and keeps your arms dry and free of dirt and bugs. A skin tone colored pair of arm sleeves gets the job done and goes unnoticed.
Reason #4: Skin Protection from Work Hazards
Just as UV arm sleeves protect you from the harmful ultraviolet rays of the sun, they also protect your arms from work-related contact hazards such as chemicals, paints, tars, cleansers, sprays, wood and metal shavings as well as burns, pricks and scrapes. Just about every outdoor job and many indoor jobs feature tasks and activities that can result in an injury to your arms. Wearing a pair of arm sleeves will keep your arms protected and free of contact-related injuries and messes. What better way for a painter or roofer to go about their craft, avoid injury and finish work without getting paint or tar on their arms?
Reason #5: Covering a Skin Condition
Another reason to wear UV arm sleeves is to cover a skin condition like eczema, psoriasis or a skin injury. There are two reasons to cover a skin condition. The first reason, and most important reason, is to care for the skin condition and prevent it from getting worse. Many skin conditions are aggravated and inflamed by physical contact as well as exposure to the sun. An afternoon of gardening or light yard work can easily result in discomfort on account of too much sun, a few scratches from plants an prickly bushes and the occasional mosquito bite. A second reason to cover a skin condition is to simply prevent others from seeing an unsightly condition. Though no one should be bothered by the sight of a skin condition, people with skin conditions sometimes feel uncomfortable and prefer to keep their skin condition out of sight. A pair of arm sleeves that are the color of your skin go unnoticed and give you peace of mind.
Reason #6: Intense Workouts
Increasingly, compression arm sleeves are being worn for sporting activities. The compression of the arm sleeve holds the arm muscles in place for better performance and protection from injury. And the compression of arm sleeves also help exerted muscles recover quicker on account of improved blood circulation and flow of oxygen in the blood stream. This makes compression arm sleeves a valuable piece of performance wear in the gym, especially when lifting weights. Compression arm sleeves will help your arm muscles perform your set and then quickly recover so you can take on your next set.
Reason #7: Sun Protection
Sun protection is arguably the leading reason why folks wear UV compression arm sleeves. Whenever you are in the sun, you need sun protection. You may not realize it, but you can get over exposed to the sun in as little as fifteen minutes. And unlike sunscreen which must be slopped on to be effective and even then only lasts two hours, UV arm sleeves keep you protected as long as you are wearing them. And there is no mess. For all-purpose sun protection from outdoor work, sports and fun in the sun, a pair of skin tone colored arm sleeves will keep your arms covered.
Reason #8: Cooling
An added benefit to UV compression arm sleeves and another reason to wear them is that they not only protect you from harmful and hot rays of the sun, but they also keep you cool. This is on account of the fabric of the arm sleeves that has been treated to provide UPF protection and moisture-wicking. As the outside temperature on a hot day warms your body and your arms begin to perspire, moisture is immediately wicked away. The combination of the UPF treated fabric blocking the sun and the moisture-wicking properties that dry your arms results in a cooling feeling and sensation. Just a little air passing over your arm makes you feel like you are in air-conditioning. This can enable you to enjoy your outdoor activity on the hottest of days.
Reason #9: Recovering from Skin Burns
Skin burns come in many forms. Physicians group burns into categories, called degrees, based upon how deeply your skin has been harmed. A first degree burn only affects the outer layer of your skin. A mild sunburn would be a first degree burn. A second degree burn goes a little deeper and affects the dermis which is the layer underneath your skin. A third degree burn is worse and affects two full layers of skin. And a fourth degree burn is the worst and is the deepest and most severe of burns affecting all layers of skin as well as bones, muscles, and tendons. A compression garment is one of the methods used to minimize scarring. They work by applying pressure, a tight fit, to the area of your skin that is affected which flattens and improves the appearance of a scar. If you have had a bad arm burn, plan to wear a UV compression arm sleeve to help recovery, minimize scarring and to keep your arm sun protected and cool when outside.
Reason #10: Looks Like Your Skin
Though there are many reasons to wear UV compression arm sleeves, perhaps the biggest and main reason to wear skin tone UV compression arm sleeves is that your sleeves will look like your arms. You get the coverage and protection that you need and no one is likely to even notice that you have them on. This can be a good thing. When you are not seeking to make a fashion statement or to coordinate the look of all that you are wearing, the skin tone color might just be the best choice color of arm sleeves that you can wear.
Summary
When UV compression arm sleeves first came out, almost all of the companies making them offered them in only one color, white. Next, companies started making black and then eventually more colors and designs came out. Now, many companies are finally making UV compression arm sleeves in skin tone colors. As skin tone color UV compression arm sleeves can be worn in perhaps the widest variety of applications and activities, both outside and indoors, perhaps their popularity shouldn't be so surprising after all.
Uvoider UV Compression Arm Sleeves – Skin Tone Colors

UV Arm Sleeves 239 Skin Tone 1

UV Arm Sleeves 240 Skin Tone 2
Uvoider UV Compression Arm Sleeves – Print Designs






UV Arm Sleeves 206 Checkerboard

UV Arm Sleeves 207 Army Camouflage

UV Arm Sleeves 212 Black/White

UV Arm Sleeves 213 Safety Yellow/Orange



UV Arm Sleeves 227 Stars and Strips



UV Arm Sleeves 230 Blue Gingham



UV Arm Sleeves 233 Black and White Chevrons





UV Arm Sleeves 238 Red/White/Green
Uvoider UV Compression Arm Sleeves – Solid Colors






UV Arm Sleeves 220 Admiral Blue





UV Arm Sleeves 225 Neon Yellow
Uvoider UV Compression Arm Sleeves – Sizes
The Uvoider UV Compression Arm Sleeves come in sizes that range from Youth Small to Adult 4XL.
| | | | | |
| --- | --- | --- | --- | --- |
| Size | Bicep (inches) | Length (inches) | Bicep (cm) | Length (cm) |
| YS | 6.5 in | 12.2 in | 16.5 cm | 31 cm |
| YM | 7.5 in | 13.4 in | 19.0 cm | 34 cm |
| YL | 8.5 in | 14.6 in | 21.6 cm | 37 cm |
| XXS | 9.5 in | 15.0 in | 24.1 cm | 38 cm |
| XS | 9.9 in | 15.4 in | 25.1 cm | 39 cm |
| S | 10.3 in | 16.1 in | 26.2 cm | 41 cm |
| M | 10.7 in | 16.9 in | 27.2 cm | 43 cm |
| L | 11.5 in | 17.7 in | 29.2 cm | 45 cm |
| XL | 12.5 in | 18.5 in | 31.8 cm | 47 cm |
| 2XL | 14.0 in | 18.5 in | 35.6 cm | 47 cm |
| 3XL | 15.5 in | 18.5 in | 39.4 cm | 47 cm |
| 4XL | 17+ in | 18.5 in | 43.2+ cm | 47 cm |
Arm Measurement Guidelines
To ensure proper fitting, measure around your relaxed bicep (not flexed). If you require further assistance, please contact a Customer Service Representative.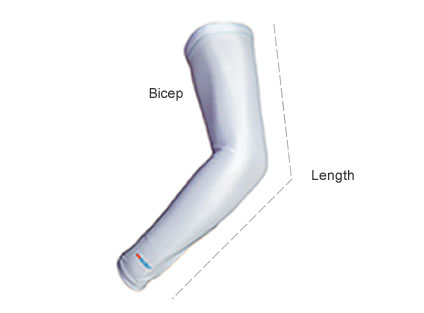 Uvoider UV Compression Arm Sleeves – Product Details
One pair (2 sleeves)
Fabric: 80% polyester/20% spandex
Machine wash and cool dry
Uvoider UV Compression Arm Sleeves – Features
Made of high quality polyester/spandex and utilize flat-lock stitching for comfort, fit and durability
Extreme UPF 50+ protection against UV rays
Blocks 99% of harmful UV radiation
Reduce muscle soreness and enable muscles to recover more quickly after sports or activities
Assist in blood circulation
Breathable, moisture wicking and quick-drying, keeping your arms cool
Anti-bacterial and odor resistant
Improve performance in endurance sports
Suitable for many sports, outdoor work, and activities
Protect your arms from scratches, abrasions, bugs and poison ivy when out on the trail or when gardening
Easily slipped on and off
Handy to have around and wear when needed
Convenient for traveling
Can be worn every time you are exposed to the sun
Provides sun protection as long as you have them on
Better than sunscreen which lasts only for 2 hours
Can be worn with your existing wardrobe
An alternative to long-sleeves clothing which can be expensive
Stylish and available in many colors and designs
More Information