If you have ever had trigger points then you know all too well how they can mimic a pinched C6 nerve causing pain and weakness from the neck and shoulder, down the arm, and into the wrist, thumb, and index finger. If you havenít already, add compression arm sleeves to your recovery kit. Hereís how they will help.
My Story
This is a topic that your humble Uvoider Chief Evangelist has had firsthand experience with. Just after the new year, I stepped up my workout routine and added three new weightlifting exercises to my daily program, the dumbbell fly, the vertical press, and the inclined barbell press. My objective was to add a little muscle definition to my chest. In particular, I was targeting my delts and pecs. As most of my current exercise program consisted of stretching, light weights, stationary cycling, followed by a twenty-minute run, the added chest exercises were easy to work into the schedule and didnít seem to pose a problem from the perspective of muscle injury or overuse.
What Could Go Wrong?
The first three days of my new exercise program went just fine. On the fourth day of the program, while performing a dumbbell fly set, I felt a slight strain in my neck and shoulder as I finished the last rep. At the time, I didnít feel any pain or discomfort. The next morning, however, my neck and shoulder were throbbing. By the end of the day, I was in excruciating pain. Also, it appeared as if my right shoulder blade was out of place and dangling from its normal position. And just below the shoulder blade, a muscle was twitching nonstop.
Pain, Pain, and More Pain
The events that followed were nothing short of a tortuous learning experience. Multiple trips to my primary care doctor and orthopedic specialists, MRIs of my neck and shoulder, pain medication issues, and three months of physical therapy. You might be thinking, what was the cause of all of this pain? A torn rotator cuff perhaps? Maybe a muscle tear or at least a very bad strain? Nope. Nothing was broken, torn, or even strained.
Trigger Points aka Myofascial Pain Syndrome
The cause of my pain was Trigger Points. I had four of them. One was on my neck, two others were along my upper shoulder, and a fourth one was behind my shoulder blade. According to my physical therapist, the trigger points were squeezing the C6 nerve and, in effect, were mimicking a pinched nerve. The pain was intolerable, and it ran down my neck, over my shoulder, along the back of my triceps to the front of my biceps, crossing over to my forearm, and running all the way down to my thumb and index finger.
12 Weeks to Full Recovery
Fortunately for me, my therapist was superb. Though painful, her deep tissue massages, squeezing of the trigger points, and physical therapy exercises brought the trigger points under control. By the fourth week, the pain had just about gone away, and by the eighth week, the trigger points had subsided. My right arm no longer hurt, nor did it have that dead arm feeling, but it was very weak. It took another four weeks of stretching and exercises with light weights to regain its full strength.
Compression Arm Sleeves
Throughout this 12-week ordeal, one of the things that helped with my arm pain and with my arm exercises was my Uvoider Compression Arm Sleeves.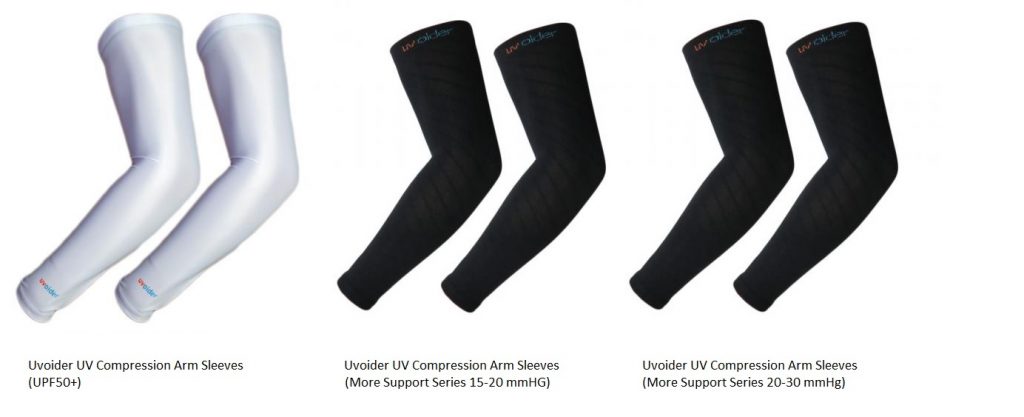 Uvoider Arm Sleeves for Trigger Point Relief
During the day, for several hours at a time, I wore the standard Uvoider UV Compression Arm Sleeves which provided cool, soothing relief to my sore arm. When performing my physical therapy exercises, I added more compression by wearing the Uvoider More Support Series Compression Arm Sleeves. The extra compression enabled me to get through the physical therapy program and to take on additional exercises throughout the day.
Summary
Trigger points are no laughing matter. They can arise from injury, overuse, and simply from the effects of aging. Along with the massages, exercises, and pain killers, be sure to incorporate compression arm sleeves into your routine. During your physical therapy routines, they will support your arm muscles giving you a better, more effective exercise. And throughout the day, you can wear them to relieve the discomfort of the pinched-nerve, dead arm feeling that trigger points produce.
For more information on Uvoider Compression Arm Sleeves:
UV Compression Arm Sleeves (UPF50+)
Compression Arm Sleeves Ė More Support Series (15-20 and 20-30 mmHG)
Featured Uvoider Compression Sleeves - UV Compression Sleeves and More Support Series (15-20 mmHg and 20-30 mmHg)