Increasingly, golfers of all ages and abilities are wearing UV compression arm and calf sleeves. You see them on tour and at golf courses everywhere. But did you know, if addition to sun protection and muscle support, there are many other reasons to wear arm and calf sleeves? Protecting yourself from those annoying bugs that bite is one of those reasons. Here's how UV arm and calf sleeves protect you from insects and help you play your best golf.
Keeping the biting bugs off your arms and legs
An effective insect repellent helps keep the bugs away, but it is not the only defense you should consider. The protection and support of UV compression arm and calf sleeves makes them a good idea to wear whenever you play golf. As an added layer of protection for your arms and legs, bugs are less likely to find skin to bite.
Keeping your skin cool, dry and bug free
Cool and dry skin means insects can't find you in the first place. Bugs that bite find you by sensing heat and moisture. When you are hot and sweaty, you are far more at risk of getting bitten by a mosquito. Likewise, when the temperature of your skin is lower and not radiating heat and when your skin is dry and not producing moisture, you are far less likely to get a bug bite because they are less able to sense your presence and land on you.
Protecting your skin nonstop, not just for 2 hours
Much like sunblock, mosquito repellent and bug spray only last for two hours, assuming you don't wipe it off before that when you towel dry the sweat dripping down your arms and onto your hands and golf glove. UV compression arm and calf sleeves protect your arms and legs whenever you are wearing them. For those sun filled outdoor activities like golf that you plan to do for more than two hours and that will be done in the presence of mosquitoes and other kinds of biting bugs, protect yourself with quality UV compression arm and calf sleeves. The best defense is a good offense.
Especially good for twilight golfing
There is no better way to end the day than with a round of twilight golf whether playing 18 holes after three o'clock or just a quick nine before the sun sets. Not only can you relax and enjoy the rest of your day, but at most courses you will also get a break on the cost of your greens fees. But be mindful and be prepared because twilight is the time of day that mosquitoes and biting bugs are most active. So protect yourself with UV compression arm and calf sleeves. Your arms and legs will thank you.
Summary
Getting bug bites won't cause you to three-putt or make a double bogie, but they can be annoying. Some bug bites can swell up and become itchy and irritating and after a scratch or two you are left with an open sore that may take several days to heal and that may become infected. There are so many compelling reasons to wear UV compression arm and calf sleeves. Prevent skin cancer. Support arm and leg muscles. Maintain your arm triangle. Swing tension free. Look and play your best. Add to the list of reasons to wear UV compression arm and calf sleeves, less bug bites!
Uvoider UV Compression Calf Sleeves – Colors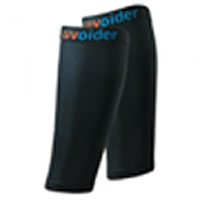 UV Calf Sleeves 401 Black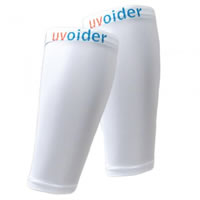 UV Calf Sleeves 402 White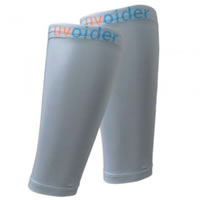 UV Calf Sleeves 403 Cool Grey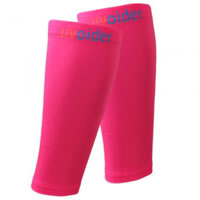 UV Calf Sleeves 404 Fuchsia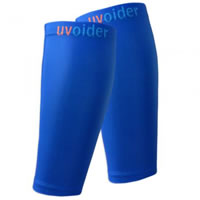 UV Calf Sleeves 405 Admiral Blue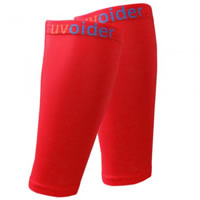 UV Calf Sleeves 406 Team Red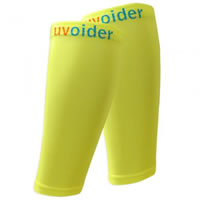 UV Calf Sleeves 407 Neon Yellow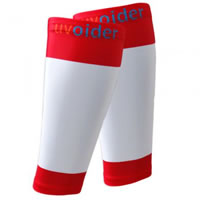 UV Calf Sleeves 408 Red/White
Uvoider UV Compression Calf Sleeves – Features
Made of high quality polyester/spandex and utilize flat-lock stitching for comfort, fit and durability
Extreme UPF 50+ protection against UV rays
Blocks 99% of harmful UV radiation
Reduce muscle soreness and enable muscles to recover more quickly after sports or activities
Assist in blood circulation
Breathable, moisture wicking and quick-drying, keeping your legs cool
Anti-bacterial and odor resistant
Improve performance in endurance sports
Suitable for many sports, outdoor work, and activities
Protect your arms from scratches, abrasions, bugs and poison ivy when out on the trail or when gardening
Easily slipped on and off
Handy to have around and wear when needed
Convenient for traveling
Can be worn every time you are exposed to the sun
Provides sun protection as long as you have them on
Better than sunscreen which lasts only for 2 hours
Can be worn with your existing wardrobe
Uvoider UV Compression Calf Sleeves – Product Details
Fabric: 80% polyester/20% spandex
Machine wash and cool dry
Imported
Uvoider UV Compression Calf Sleeves Size Chart
Size
Calf
(inches)
Calf
(cm)
XXS
10-12 in
25-30 cm
XS
11-13 in
28-33 cm
S
12-14 in
30-35 cm
M
13 – 14.5 in
33-37 cm
L
13.3-15.5 in
34-39 cm
XL
14-16 in
35-40 cm
2XL
15-17 in
38-43 cm
3XL
16-18 in
40-46 cm
4XL
17-19 in
43-48 cm
More Information
Uvoider UV Compression Calf Sleeves
Uvoider UV Compression Arm Sleeves – Print Designs


UV Arm Sleeves 201 Dreamtime


UV Arm Sleeves 202 Bayside


UV Arm Sleeves 203 Peppermint


UV Arm Sleeves 204 Pacific


UV Arm Sleeves 202 Bayside


UV Arm Sleeves 206 Checkerboard


UV Arm Sleeves 207 Army Camouflage


UV Arm Sleeves 212 Black/White


UV Arm Sleeves 213 Safety Yellow/Orange


UV Arm Sleeves 214 Rainbow


UV Arm Sleeves 226 Red/White


UV Arm Sleeves 227 Stars and Strips


UV Arm Sleeves 228 USA Flag 1


UV Arm Sleeves 229 USA Flag 2


UV Arm Sleeves 230 Blue Gingham


UV Arm Sleeves 231 Atlantis


UV Arm Sleeves 232 Fiesta


UV Arm Sleeves 233 Black and White Chevrons


UV Arm Sleeves 234 Zinger


UV Arm Sleeves 235 Piccadilly


UV Arm Sleeves 236 Luna


UV Arm Sleeves 237 Dublin


UV Arm Sleeves 238 Red/White/Green
Uvoider UV Compression Arm Sleeves – Solid Colors


UV Arm Sleeves 215 White


UV Arm Sleeves 216 Black


UV Arm Sleeves 217 Cool Grey


UV Arm Sleeves 218 Light Pink


UV Arm Sleeves 219 Fuchsia


UV Arm Sleeves 220 Admiral Blue


UV Arm Sleeves 221 Navy


UV Arm Sleeves 222 Blue Jay


UV Arm Sleeves 223 Team Red


UV Arm Sleeves 224 Garnet


UV Arm Sleeves 225 Neon Yellow


UV Arm Sleeves 239 Skin Tone 1


UV Arm Sleeves 240 Skin Tone 2
Uvoider UV Compression Arm Sleeves – Sizes
The Uvoider UV Compression Arm Sleeves in Skin Tone colors come in sizes that range from Youth Small to Adult 4XL.
Size
Bicep
(inches)
Length
(inches)
Bicep
(cm)
Length
(cm)
YS
6.5 in
12.2 in
16.5 cm
31 cm
YM
7.5 in
13.4 in
19.0 cm
34 cm
YL
8.5 in
14.6 in
21.6 cm
37 cm
XXS
9.5 in
15.0 in
24.1 cm
38 cm
XS
9.9 in
15.4 in
25.1 cm
39 cm
S
10.3 in
16.1 in
26.2 cm
41 cm
M
10.7 in
16.9 in
27.2 cm
43 cm
L
11.5 in
17.7 in
29.2 cm
45 cm
XL
12.5 in
18.5 in
31.8 cm
47 cm
2XL
14.0 in
18.5 in
35.6 cm
47 cm
3XL
15.5 in
18.5 in
39.4 cm
47 cm
4XL
17+ in
18.5 in
43.2+ cm
47 cm
Arm Measurement Guidelines
To ensure proper fitting, measure around your relaxed bicep (not flexed).
If you require further assistance, please contact a Customer Service Representative.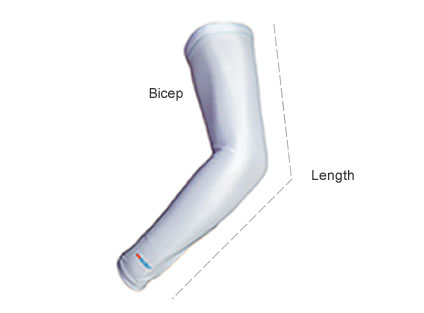 Uvoider UV Compression Arm Sleeves – Product Details
One pair (2 sleeves)
Price: $14.99
Fabric: 80% polyester/20% spandex
Machine wash and cool dry
Uvoider UV Compression Arm Sleeves – Features
Made of high quality polyester/spandex and utilize flat-lock stitching for comfort, fit and durability
Extreme UPF 50+ protection against UV rays
Blocks 99% of harmful UV radiation
Reduce muscle soreness and enable muscles to recover more quickly after sports or activities
Assist in blood circulation
Breathable, moisture wicking and quick-drying, keeping your arms cool
Anti-bacterial and odor resistant
Improve performance in endurance sports
Suitable for many sports, outdoor work, and activities
Protect your arms from scratches, abrasions, bugs and poison ivy when out on the trail or when gardening
Easily slipped on and off
Handy to have around and wear when needed
Convenient for traveling
Can be worn every time you are exposed to the sun
Provides sun protection as long as you have them on
Better than sunscreen which lasts only for 2 hours
Can be worn with your existing wardrobe
An alternative to long-sleeves clothing which can be expensive
Stylish and available in many colors and designs
Articles on Golf Arm Sleeves
More Information
Uvoider UV All-Purpose Bucket Hats


UV Bucket Hat 1001 White/Silver Grey

UV Bucket Hat 1002 White/Navy

UV Bucket Hat 1003 Tan/Dark Grey

UV Bucket Hat 1004 Flag Blue/Silver Grey

Uvoider UV Explorer Hats (Bucket Hat with Neck Flap)


UV Explorer Hat 2001 Vanilla/Navy

UV Explorer Hat 2002 Tan/Dark Grey

UV Explorer Hat 2003 Flag Blue/Silver Grey

UV Explorer Hat 2004 Bluish Teal/Silver Grey

UV Explorer Hat 2005 Plum/Silver Grey
More Uvoider UV Protection Products