It's a beautiful and somewhat chilly fall morning. Layered up in clothing, you step up to the tee feeling more like the Michelin Man than a twelve handicap weekend golfer. You attempt a practice swing but it is constricted by layers of clothing. After mishitting your drive, you resign yourself to playing better on the back nine once the weather warms up. There's a better way.
Reduce Swing Constriction
In golf, swing constriction is when you are unable to execute a smooth and complete golf swing on account of having layers of clothing that cover and restrict your shoulder movement. Imagine a pendulum that is freely moving back and forth. Now imagine that the pendulum and its fulcrum are wrapped and covered up. It is not too hard to envision how the back and forth swing of the pendulum is constricted.
So too is it with a golf swing. As you add layers of clothing over your shoulders, you constrict both your backswing and downswing. Typically, this results in an incomplete backswing which leads to a fast downswing on account of trying to make up for lost swing speed and power. After just a few holes you have lost your tempo and timing and your golf swing is out of sync.
When you play cool weather golf, develop a clothing strategy that will not constrict your swing. Avoid wearing tight long-sleeved body wear under your golf shirt which constricts and reduces your shoulder movement and, unless it is really cold and you have to, avoid wearing long-sleeved pullovers.
Layer Up Wisely
When you layer up for cool weather days, cover your shoulders only once to ensure that your swing is not constricted. For example, wear a warm sleeveless t-shirt under a heavier-weight fall golf shirt. And then slip on a pair of quality golf arm sleeves. This clothing strategy will keep you warm and not interfere with your swing mechanics. Not only will your shoulders and arms swing freely, but you will not have any excess clothing bulging out at your midsection catching the butt end of your club when you are pitching, chipping, and putting.
Keep Your Arm Muscles Warm
In addition to layering up wisely to avoid swing constriction, quality arm sleeves will also keep your arms and arm muscles warm. Just like the sleeves of a shirt or pullover, arm sleeves cover your skin and keep your arms warm. But more than that, the compression in quality arm sleeves improves blood circulation which keeps your muscles fresh and relaxed. The compression in arm sleeves also keeps sore muscles and tendons compressed and in place preventing further stress, strain, and soreness.
Play Better Golf
Arm sleeves for cool weather golf – they will reduce swing constriction and keep your muscles warm. You will play better golf. Give them a try!
Uvoider UV Compression Arm Sleeves – Print Designs


UV Arm Sleeves 201 Dreamtime


UV Arm Sleeves 202 Bayside


UV Arm Sleeves 203 Peppermint


UV Arm Sleeves 204 Pacific


UV Arm Sleeves 202 Bayside


UV Arm Sleeves 206 Checkerboard


UV Arm Sleeves 207 Army Camouflage


UV Arm Sleeves 212 Black/White


UV Arm Sleeves 213 Safety Yellow/Orange


UV Arm Sleeves 214 Rainbow


UV Arm Sleeves 226 Red/White


UV Arm Sleeves 227 Stars and Strips


UV Arm Sleeves 228 USA Flag 1


UV Arm Sleeves 229 USA Flag 2


UV Arm Sleeves 230 Blue Gingham


UV Arm Sleeves 231 Atlantis


UV Arm Sleeves 232 Fiesta


UV Arm Sleeves 233 Black and White Chevrons


UV Arm Sleeves 234 Zinger


UV Arm Sleeves 235 Piccadilly


UV Arm Sleeves 236 Luna


UV Arm Sleeves 237 Dublin


UV Arm Sleeves 238 Red/White/Green
Uvoider UV Compression Arm Sleeves – Solid Colors


UV Arm Sleeves 215 White


UV Arm Sleeves 216 Black


UV Arm Sleeves 217 Cool Grey


UV Arm Sleeves 218 Light Pink


UV Arm Sleeves 219 Fuchsia


UV Arm Sleeves 220 Admiral Blue


UV Arm Sleeves 221 Navy


UV Arm Sleeves 222 Blue Jay


UV Arm Sleeves 223 Team Red


UV Arm Sleeves 224 Garnet


UV Arm Sleeves 225 Neon Yellow


UV Arm Sleeves 239 Skin Tone 1


UV Arm Sleeves 240 Skin Tone 2
Uvoider UV Compression Arm Sleeves – Sizes
Uvoider UV Arm Sleeves now come in 12 sizes that range from Youth Small (YS) to Adult (4XL).
Youth (YS) – 6.7 inch sleeve size at bicep
Youth (YM) – 7.5 inch sleeve size at bicep
Youth (YL) – 8.3 inch sleeve size at bicep
Adult (XXS) – 9.1 inch sleeve size at bicep
Adult (XS) – 9.4 inch sleeve size at bicep
Adult (S) – 9.8 inch sleeve size at bicep
Adult (M) – 10.2 inch sleeve size at bicep
Adult (L) – 11.0 inch sleeve size at bicep
Adult (XL) – 11.8 inch sleeve size at bicep
Adult (2XL) – 13.0 inch sleeve size at bicep
Adult (3XL) – 14.6 inch sleeve size at bicep
Adult (4XL) – 16.1 inch sleeve size at bicep
Uvoider UV Compression Arm Sleeves – Fitting Chart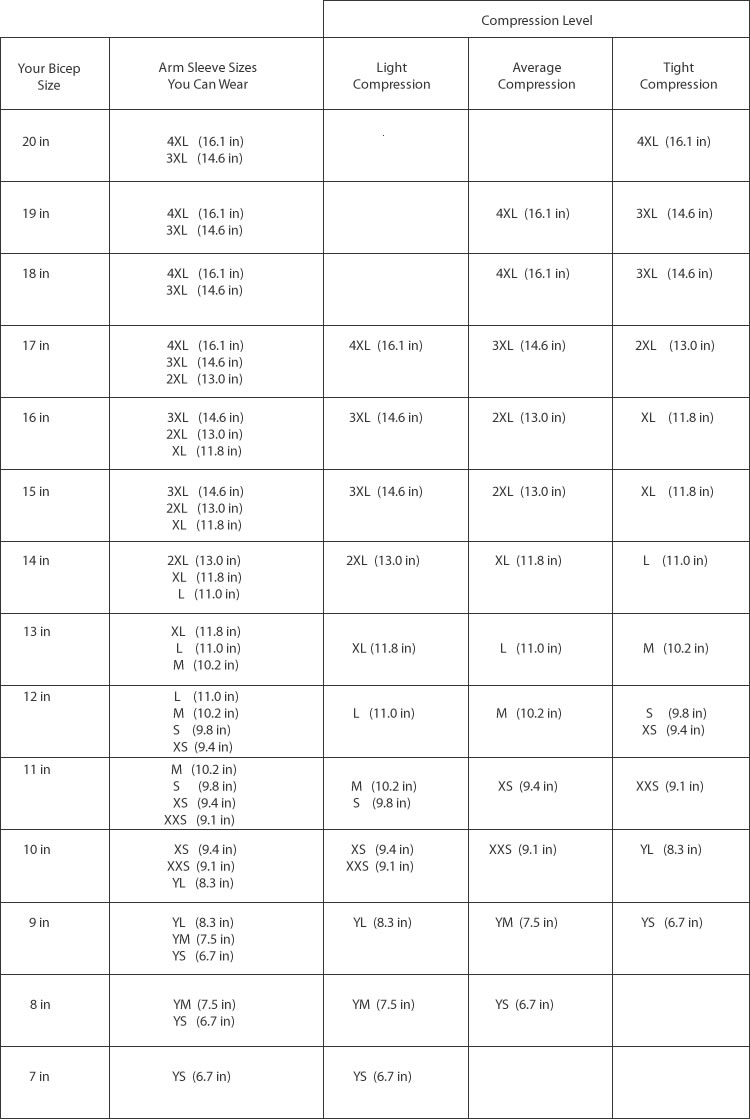 Uvoider UV Compression Arm Sleeves – Features
Made of high quality polyester/spandex and utilize flat-lock stitching for comfort, fit and durability
Extreme UPF 50+ protection against UV rays
Blocks 99% of harmful UV radiation
Reduce muscle soreness and enable muscles to recover more quickly after sports or activities
Assist in blood circulation
Breathable, moisture wicking and quick-drying, keeping your arms cool
Anti-bacterial and odor resistant
Improve performance in endurance sports
Suitable for many sports, outdoor work, and activities
Protect your arms from scratches, abrasions, bugs and poison ivy when out on the trail or when gardening
Easily slipped on and off
Handy to have around and wear when needed
Convenient for traveling
Can be worn every time you are exposed to the sun
Provides sun protection as long as you have them on
Better than sunscreen which lasts only for 2 hours
Can be worn with your existing wardrobe
An alternative to long-sleeves clothing which can be expensive
Stylish and available in many colors and designs
Uvoider UV Compression Arm Sleeves – Product Details
One pair
Fabric: 80% polyester/20% spandex
Machine wash and cool dry
Uvoider UV Compression Arm Sleeves – More Information
Uvoider UV Compression Arm Sleeves
Uvoider UV Compression Arm Sleeves Size Chart