Size matters..! Have you ever wondered what size arm sleeve is the right size for you? Not everyone has the same arm size. Our arms can be different in length and the overall shape of our arms can be different in terms of the upper arm and lower arm widths. Finding the perfect arm sleeve size doesn't have to be a trial land error endeavor.

Size Chart for Uvoider UV Compression Arm Sleeves
The size chart shown below shows you the size of the Uvoider UV Compression Arm Sleeve that you can wear based upon the width of your bicep and the length of your arm. The most important measurement to consider is the width of your bicep.
Size
Bicep
(inches)
Length
(inches)
Bicep
(cm)
Length
(cm)
YS
6.5 in
12.2 in
16.5 cm
31 cm
YM
7.5 in
13.4 in
19.0 cm
34 cm
YL
8.5 in
14.6 in
21.6 cm
37 cm
XXS
9.5 in
15.0 in
24.1 cm
38 cm
XS
10.0 in
15.4 in
25.4 cm
39 cm
S
10.6 in
16.1 in
26.9 cm
41 cm
M
11.2 in
16.9 in
28.4 cm
43 cm
L
12.0 in
17.7 in
30.5 cm
45 cm
XL
13.5 in
18.5 in
34.3 cm
47 cm
2XL
15.0 in
18.5 in
38.1 cm
47 cm
3XL
16.5 in
18.5 in
41.9 cm
47 cm
4XL
18+ in
18.5 in
45.7+ cm
47 cm
Fitting Chart for Uvoider UV Compression Arm Sleeves
The Fitting Chart shown below shows you the arm sleeves that you can wear for the compression level you desire. Your desired compression level can vary based upon intended use, performance desired, and comfort. Average compression is recommended unless you specifically want a lighter in compression or tighter in compression fit.
Bicep Size

Light
Compression
Average
Compression
Tight
Compression
7 in
17.8 cm
YM
YS
8 in
20.3 cm
YM
YM
 YS
9 in
22.3 cm
YL
YL
YM
10 in
25.4 cm
XS
XXS
XXS
11 in
27.9 cm
M
S
XS
12 in
30.5 cm
L
L
M
13 in
33.0 cm
XL
XL
L
14 in
35.6 cm
XL
XL
L
15 in
38.1 cm
2XL
2XL
XL
16 in
40.6 cm
3XL
3XL
2XL
17 in
43.2 cm
4XL
3XL
3XL
18 in
45.6 cm
4XL
3XL
19 in
48.3 cm
4XL
3XL
20 in
50.8 cm
4XL
Arm Measurement Guidelines
For most people, to find the arm sleeve that fits you best all you need to measure is your bicep. Be sure to measure around your relaxed bicep (not flexed). You can then compare the various arm sleeve sizes from Youth Small (YS) to Quadruple Extra Large (4XL) and pick the best fit size for you. There are a few things to keep in mind. As always, if you require further assistance, please contact a Customer Service Representative.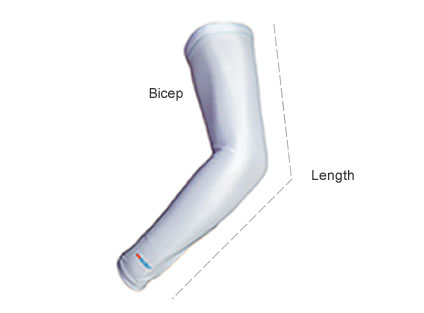 How arm sleeve sizing works
The first and most important thing to understand about arm sleeve sizing is that the width of the arm sleeve at your bicep area has to be smaller than the width of your relaxed bicep or else it will not stay up. Typically, an arm sleeve will be about .5 to 1.0 inches smaller than the width of your relaxed bicep. In addition to being smaller in circumference than the width of your bicep, quality arm sleeves will have a gripping strip to ensure that your arm sleeves do not fall down and that your fit will be long lasting.
Upper arm fit vs lower arm fit
Second, the arm sleeve that best fits your upper arm might not be the best fit for your lower arm. For most uses, you would want the upper arm to fit best as you don't want your arm sleeve to slide down your arm. If the lower arm wrist area fits a little loose, you would likely not notice it. You could have a use such as painting or working with chemicals and sprays in which you prefer the lower arm wrist area to be the best fitting area of your sleeve. But generally, due to the stretchy compression fit of the arm sleeve, you should be able to find a size that will comfortably and snugly fit your entire arm.
Left and right arms may not be the same size
Third, be mindful that your two arms might not be the same size. Be sure to measure the larger of your two arms when determining the best fitting sleeve for you. And, if you are one of those athletes that by the nature of your sport has one arm that is substantially larger than the other, be sure to measure both of your arms. You might find that your larger arm requires a larger size than your smaller arm. And that's okay. You can order one size of sleeves for one arm and another size of sleeves for the other.
Quality of the arm sleeve
Fourth, be sure to check the quality of the arm sleeve. You don't want a sleeve that will lose its shape and fit and that will slide off your arm. Look for a sleeve that is made out of a quality fabric such as a polyester (80%) and spandex (20%) mix and that has a gripping strip to secure the fit. This will provide durability and a long lasting fit.  Also, look for an arm sleeve that utilizes flat-lock stitching. This is important for both comfort of fit in the seam area and in ensuring that the sleeves last longer than just one wear!
Sizing for the advanced wearer
And lastly, for the advanced wearer of UV compression arm sleeves, you might find that the recommended sizes provided by your supplier might not be enough information for you. Not all suppliers provide the same amount of sizes from which to choose and the sizes may not be the same from one supplier to the next. To get the exact technical details of your arm sleeves such as the width of the sleeve at the bicep, the width of the sleeve at the wrist, and the length of the sleeve, you should always ask the supplier.  They will be happy to give it.
Now that you have what you need to know to find the arm sleeve size that is best for you, have a look at the Uvoider UV Compression Arm Sleeves.
Uvoider UV Compression Arm Sleeves – Print Designs


UV Arm Sleeves 201 Dreamtime


UV Arm Sleeves 202 Bayside


UV Arm Sleeves 203 Peppermint


UV Arm Sleeves 204 Pacific


UV Arm Sleeves 202 Bayside


UV Arm Sleeves 206 Checkerboard


UV Arm Sleeves 207 Army Camouflage


UV Arm Sleeves 212 Black/White


UV Arm Sleeves 213 Safety Yellow/Orange


UV Arm Sleeves 214 Rainbow


UV Arm Sleeves 226 Red/White


UV Arm Sleeves 227 Stars and Strips


UV Arm Sleeves 228 USA Flag 1


UV Arm Sleeves 229 USA Flag 2


UV Arm Sleeves 230 Blue Gingham


UV Arm Sleeves 231 Atlantis


UV Arm Sleeves 232 Fiesta


UV Arm Sleeves 233 Black and White Chevrons


UV Arm Sleeves 234 Zinger


UV Arm Sleeves 235 Piccadilly


UV Arm Sleeves 236 Luna


UV Arm Sleeves 237 Dublin


UV Arm Sleeves 238 Red/White/Green
Uvoider UV Compression Arm Sleeves – Solid Colors


UV Arm Sleeves 215 White


UV Arm Sleeves 216 Black


UV Arm Sleeves 217 Cool Grey


UV Arm Sleeves 218 Light Pink


UV Arm Sleeves 219 Fuchsia


UV Arm Sleeves 220 Admiral Blue


UV Arm Sleeves 221 Navy


UV Arm Sleeves 222 Blue Jay


UV Arm Sleeves 223 Team Red


UV Arm Sleeves 224 Garnet


UV Arm Sleeves 225 Neon Yellow


UV Arm Sleeves 239 Skin Tone 1


UV Arm Sleeves 240 Skin Tone 2
Uvoider UV Compression Arm Sleeves – Features
Made of high quality polyester/spandex and utilize flat-lock stitching for comfort, fit and durability
Extreme UPF 50+ protection against UV rays
Blocks 99% of harmful UV radiation
Reduce muscle soreness and enable muscles to recover more quickly after sports or activities
Assist in blood circulation
Breathable, moisture wicking and quick-drying, keeping your arms cool
Anti-bacterial and odor resistant
Improve performance in endurance sports
Suitable for many sports, outdoor work, and activities
Protect your arms from scratches, abrasions, bugs and poison ivy when out on the trail or when gardening
Easily slipped on and off
Handy to have around and wear when needed
Convenient for traveling
Can be worn every time you are exposed to the sun
Provides sun protection as long as you have them on
Better than sunscreen which lasts only for 2 hours
Can be worn with your existing wardrobe
An alternative to long-sleeves clothing which can be expensive
Stylish and available in many colors and designs
Uvoider UV Compression Arm Sleeves – Product Details
One pair
Price: $14.99
Fabric: 80% polyester/20% spandex
Machine wash and cool dry
Uvoider UV Compression Arm Sleeves – More Information