Now available..! Uvoider is introducing 8 new colors of high quality UV compression calf sleeves with sizes from Youth through 4XL.
Uvoider UV Compression Calf Sleeves – About
Compression calf sleeves are gaining popularity among cyclists, runners and athletes from other sports to help stabilize calf muscles, alleviate calf strains, pain and cramping, and to improve performance and recovery during and after events.
Uvoider UV Compression Calf Sleeves feature mild or light compression to minimize tired aching legs, possibly help control minor ankle and leg swelling, and provide a little extra support if you spend a lot of time on your feet. They protect your legs from small scratches, abrasions and dirt, and with a certified UPF 50+ rating, they protect your skin from harmful UV rays from the sun.
Uvoider UV Compression Calf Sleeves are made from high quality tech fabric that is lightweight, breathable, moisture-wicking, quick-drying, anti-bacterial and odor resistant, keeping your legs cooler, drier and fresher than ever. They also also feature advanced flatlock stitching for durability and comfort.
8 New Colors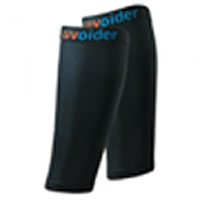 UV Calf Sleeves 401 Black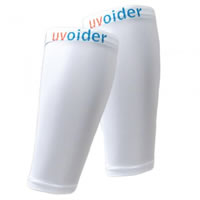 UV Calf Sleeves 402 White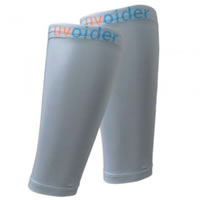 UV Calf Sleeves 403 Cool Grey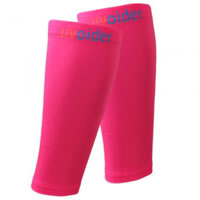 UV Calf Sleeves 404 Fuchsia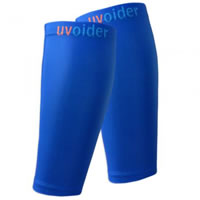 UV Calf Sleeves 405 Admiral Blue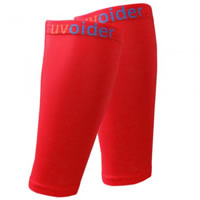 UV Calf Sleeves 406 Team Red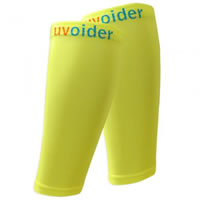 UV Calf Sleeves 407 Neon Yellow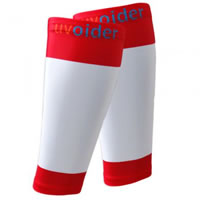 UV Calf Sleeves 408 Red/White
Uvoider UV Compression Calf Sleeves – Features
Made of high quality polyester/spandex and utilize flat-lock stitching for comfort, fit and durability
Extreme UPF 50+ protection against UV rays
Blocks 99% of harmful UV radiation
Reduce muscle soreness and enable muscles to recover more quickly after sports or activities
Assist in blood circulation
Breathable, moisture wicking and quick-drying, keeping your legs cool
Anti-bacterial and odor resistant
Improve performance in endurance sports
Suitable for many sports, outdoor work, and activities
Protect your arms from scratches, abrasions, bugs and poison ivy when out on the trail or when gardening
Easily slipped on and off
Handy to have around and wear when needed
Convenient for traveling
Can be worn every time you are exposed to the sun
Provides sun protection as long as you have them on
Better than sunscreen which lasts only for 2 hours
Can be worn with your existing wardrobe
Uvoider UV Compression Calf Sleeves – Product Details
One pair
Fabric: 80% polyester/20% spandex
Machine wash and cool dry
Imported
Uvoider UV Compression Calf Sleeves Size Chart

More Information