In the 2000-2001 basketball season, Allen Iverson began wearing an arm sleeve on account of bursitis in his shooting elbow. This was nearly 20 years ago. He was the first and only player to wear arm sleeves. And now, 65% of the players in the NBA wear an arm sleeve and many wear two arm sleeves. The same phenomenon is happening at the grass roots, high school, and college level. Increasingly, basketball players are wearing arm sleeves and like with many other sports, the reasons why should not come as a surprise.

Basketball Arm Sleeves – Benefits of Compression
Arm sleeves provide compression that reduces swelling, increases blood flow, and reduces fatigue. Few basketball players, and most athletes for that matter, play injury free. Many shooting guards have chronic Shooter's Elbow, a made up term to describe the effects of tendonitis. Whether you are a NBA star or the neighborhood court king, elbow pain can hurt your game physically with sudden jarring and mentally with worry and loss of confidence. The compression that arm sleeves provides can lessen the discomfort of elbow pain and help to prevent fatigue and the stress and strain that can lead to injury.
Basketball Arm Sleeves – Muscle Warm-Up
Sleeves keep your arms warm and as a general rule, the warmer your arm muscles are the more flexible they will be. Few sports demand as much arm flexibility as basketball. If you arm stiffens up, you are much more likely to make errant passes, miscues in your dribbling especially cross-overs and behind the back, and you can forget about making any long range three pointers.
Basketball Arm Sleeves – Protection
Whether you are being scratched when you are making a jump shot, assaulted en route to the hoop, or just caught up in a loose ball scramble, basketball provides endless opportunities for injury and the arms are not immune to any of it. Arm sleeves can help to prevent cuts and scratches and can help to keep your tendons in place and free from stress and strain.
Basketball Arm Sleeves – Look Good, Play Better
And one more thing, arm sleeves look good. If you look good on the court and feel good as you play, you are likely to perform well. You might even psych out your opponent. And isn't that the point of competition, to not just win but look good doing it.
Uvoider Compression Arm Sleeves – Popular Colors for Basketball
UV Compression Arm Sleeves 215 White
UV Compression Arm Sleeves 216 Black
UV Compression Arm Sleeves 217 Cool Grey
UV Compression Arm Sleeves 218 Light Pink
UV Compression Arm Sleeves 220 Admiral Blue
More Colors…
Uvoider UV Compression Arm Sleeves – Solid Colors


UV Arm Sleeves 215 White


UV Arm Sleeves 216 Black


UV Arm Sleeves 217 Cool Grey


UV Arm Sleeves 218 Light Pink


UV Arm Sleeves 219 Fuchsia


UV Arm Sleeves 220 Admiral Blue


UV Arm Sleeves 221 Navy


UV Arm Sleeves 222 Blue Jay


UV Arm Sleeves 223 Team Red


UV Arm Sleeves 224 Garnet


UV Arm Sleeves 225 Neon Yellow


UV Arm Sleeves 239 Skin Tone 1


UV Arm Sleeves 240 Skin Tone 2
Uvoider UV Compression Arm Sleeves – Patriotic Designs


UV Arm Sleeves 227 Stars and Strips


UV Arm Sleeves 228 USA Flag 1


UV Arm Sleeves 229 USA Flag 2
Uvoider UV Compression Arm Sleeves – Sizes
Uvoider UV Arm Sleeves now come in 12 sizes that range from Youth Small (YS) to Adult (4XL).
Youth (YS) – 6.7 inch sleeve size at bicep
Youth (YM) – 7.5 inch sleeve size at bicep
Youth (YL) – 8.3 inch sleeve size at bicep
Adult (XXS) – 9.1 inch sleeve size at bicep
Adult (XS) – 9.4 inch sleeve size at bicep
Adult (S) – 9.8 inch sleeve size at bicep
Adult (M) – 10.2 inch sleeve size at bicep
Adult (L) – 11.0 inch sleeve size at bicep
Adult (XL) – 11.8 inch sleeve size at bicep
Adult (2XL) – 13.0 inch sleeve size at bicep
Adult (3XL) – 14.6 inch sleeve size at bicep
Adult (4XL) – 16.1 inch sleeve size at bicep
Uvoider UV Compression Arm Sleeves – Fitting Chart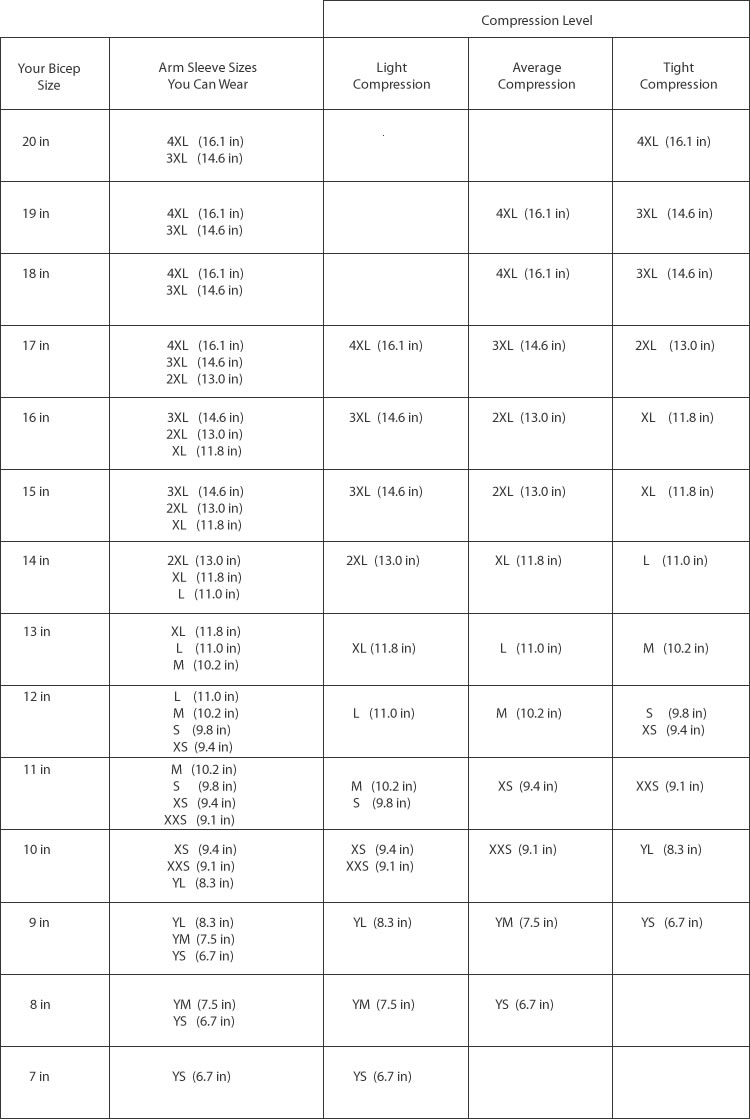 Uvoider UV Compression Arm Sleeves – Features
Made of high quality polyester/spandex and utilize flat-lock stitching for comfort, fit and durability
Extreme UPF 50+ protection against UV rays
Blocks 99% of harmful UV radiation
Reduce muscle soreness and enable muscles to recover more quickly after sports or activities
Assist in blood circulation
Breathable, moisture wicking and quick-drying, keeping your arms cool
Anti-bacterial and odor resistant
Improve performance in endurance sports
Suitable for many sports, outdoor work, and activities
Protect your arms from scratches, abrasions, bugs and poison ivy when out on the trail or when gardening
Easily slipped on and off
Handy to have around and wear when needed
Convenient for traveling
Can be worn every time you are exposed to the sun
Provides sun protection as long as you have them on
Better than sunscreen which lasts only for 2 hours
Can be worn with your existing wardrobe
An alternative to long-sleeves clothing which can be expensive
Stylish and available in many colors and designs
Uvoider UV Compression Arm Sleeves – Product Details
One pair
Fabric: 80% polyester/20% spandex
Machine wash and cool dry
Uvoider UV Compression Arm Sleeves – More Information
Uvoider UV Compression Arm Sleeves
Uvoider UV Compression Arm Sleeves Size Chart